Bali bombings: 'I sealed my brother's coffin'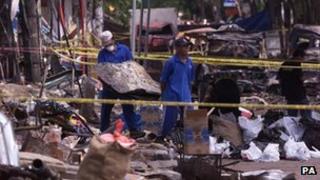 This Friday, 12 October 2012, will be a tough day for a lot of people. It marks exactly 10 years since a double bombing in Bali killed 202 people, 27 of them British.
Tobias Ellwood MP, now parliamentary private secretary to a Foreign Office minister, lost his brother Jon that day.
Jon was a teacher, in Bali for a conference.
When he was killed in the second of two blasts that tore through the night club area of Kuta in Bali, it took three days for his family to find out he had been killed.
Tobias and his sister flew out to bring home their brother's body, but he describes a shambolic scene where the tiny local morgue was overflowing into the street and where Foreign Office staff were unprepared for a disaster on this scale.
"We just wanted to bring my brother's body back to Britain, as simple as that. But it's not that simple.
"You need death certificates in both languages, embalming certificates, sealing certificates.
"All these processes require time and people to participate. None of that happened.
"I had to do many of those things myself to the point where I ended up screwing the lid down on the coffin myself. That can't be right."
Mr Ellwood says some extra staff drafted in by the British embassy were themselves unable to cope and had to be repatriated; he calls the embassy response "horrific".
After that, Jack Straw, the foreign secretary at the time, invited Mr Ellwood to contribute ideas on how to improve Foreign Office emergency response.
System set up
Following a thorough review there are now emergency response teams in every major British embassy across the world.
A system called Rapid Deployment Teams (RDTs) has been set up, based in London, the Middle East, Latin America and Asia, to provide immediate help.
A Foreign Office spokesman said this week that since the Bali bombings of 2002, it has been used over 50 times - including during the recent Japanese tsunami.
But Mr Ellwood also believes that his brother's death could have been avoided if MI5, the security service, had given sufficient warning to British citizens.
"There was intelligence that said attacks on tourists at nightclubs was expected and indeed there was a (grenade) attack on 23 September.
"With all that in mind the threat levels should have been raised higher," says Mr Ellwood.
"It wasn't - and consequently my brother's official conference went ahead. Had it been raised to high, his conference would have been cancelled and he'd be alive today."
MI5's failure to raise the alarm in time was widely criticised in a subsequent special report by parliament's Intelligence and Security Committee (ISC).
Some in the intelligence community privately complained that, given the imprecise nature of where and when an attack might come, it was not possible to raise the threat level any further.
It may be small comfort to the victims and their relatives, but something positive has since come out of the Bali bombings.
Britain now has a small but effective cross-government team that constantly monitors the terrorist threat to UK citizens, at home and abroad.
'Substantial' risk
Housed inside the security service but independent from it, the Joint Terrorism Analysis Centre (JTAC) comprises around 100 specialists drawn from the military, the Foreign Office, intelligence agencies, Cabinet Office and government departments like Transport.
Sifting through large numbers of leads, many of which turn out to be false, JTAC advises the government what the threat level should be, and that in turn is announced to the public on the MI5 website where it gets picked up by the newswires.
The current threat from international terrorism to mainland Britain is assessed as "substantial", meaning that "an attack is a strong possibility", while in Northern Ireland it is rated higher as "severe", meaning that "a terrorist attack is highly likely".
But predicting where and when the next threat is coming from is not always a precise art.
Mr Ellwood reflects that 10 years after Bali there is still no effective diplomatic or military answer to the violent ideology that killed his brother.
"Those terrorists that did the Bali bombing were trained in Afghanistan and that saw the invasion in 2001," he says.
"But 10 years later it is difficult to see what the mission is.
"It's very confusing to see what we are trying to achieve (there) rather than that initial goal of defeating al-Qaeda. And it's worrying that those objectives are not clear."