Ex-PM Gordon Brown speaks out on Pakistan schools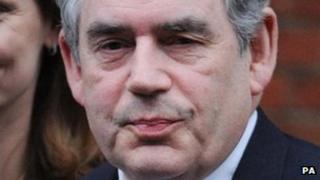 Former prime minister Gordon Brown is to urge Pakistan's leaders to use the Taliban shooting of a teenage girl as a catalyst to speed up education reforms.
Mr Brown, UN special envoy for global education, said he wanted the shooting of Malala Yousafzai, 14, to prompt more than "talk of change".
Malala is in a critical condition two days after being attacked in the north-western Swat Valley.
Mr Brown is to lead an international delegation to Pakistan next month.
Surgeons have removed a bullet from Malala's head and she has become a national hero amid global condemnation of the attempt on her life.
The teenager was shot in the head and neck as she left school on Tuesday for speaking out against the militants and promoting the right of girls to go to school.
"I have asked Pakistan's President [Asif Ali] Zardari to pledge that Malala's suffering will not be in vain. In response, he has invited me to lead a delegation of education leaders to visit him in Pakistan in November to talk about how he can improve opportunities for children," said Mr Brown.
He added: "Now as Malala Yousafzai's name is broadcast across the world as an icon for courage and hope, I am determined that her shooting produces much more than just the talk of change."
Mr Brown went on to say that he has recently met the Pakistani Foreign Minister Hina Rabbani Khar and Finance Minister Abdul Hafeez Shaikh. During the meeting he said he "pledged global support if they would move further and faster to achieve education for all".
"I have talked to the president about expanding the cash support scheme organized by the Benazir Income Support Program that incentivizes families to get their children, especially their daughters, to school.
"At the same time we talked of expanding the UK-supported project in the Punjab that has already sent an additional one million children to school by insisting on attendance, teacher quality and proper administration."
A spokesman for Mr Brown said his aim was to get governments, international non-governmental organisations and businesses to agree practical proposals to turn the "promise of universal education into reality".
In recent talks, President Zardari has agreed that there should be a plan to get the five million Pakistani girls and boys presently not schooled into education.