'Get rich quick' seminars put to the test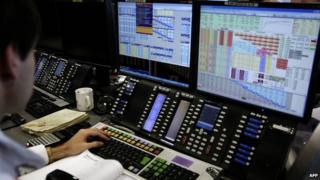 With the economy stuck in the doldrums and unemployment high, adverts claiming to be able to teach people how to make their fortunes are becoming more common. But some who take the courses are left disappointed by their experience. Phil Kemp investigates one of the largest providers.
"If you aim at nothing, you win every time," explains the young trader, bafflingly - his jumper tucked behind a large and ostentatious designer-label belt.
We are gathered in the conference suite of an exclusive hotel in London's Knightsbridge for a free foreign exchange trading seminar, and our guide tells us he will let us in on some of the secrets of how he made all his money.
The seminar is run by Knowledge to Action (KTA), the brainchild of the businessman Greg Secker.
It claims to be one of the largest international brands providing education in foreign exchange and stock market trading, training more than 100,000 people in the last eight years.
A colleague and I have come to see the presentation because we have heard complaints from some course 'graduates' about its high cost and the sort of training they received.
After a brief introduction to the 'dos and 'don'ts' of foreign exchange trading, it soon becomes apparent that the two hour talk we have attended is not going to be enough.
If we want to learn how to make serious cash, we are going to need to pay for more training.
"We charge just over £13,000 for our programme so it's not for everyone," the presenter cautions.
He continues: "But it is for anyone who is seriously looking to increase their income by an extra grand a week so that they can leave their job, so that they can become financially independent and send the kids to private school next year."
Learning the tricks of the trade
This is the first we have heard about how much the training might cost.
But we would-be traders will be learning the tricks of the trade from the people who, we are told, are some of Knowledge to Action's top earners.
And we are reassured that, by starting to trade with £5,000 and setting aside just an hour-and-a-half a day, we could recover the cost of the course within the first six months.
Away from the hard-sell of the seminar, we tracked down a former employee and asked him about how experienced some of the trainers were.
"The qualification - if you can call it a qualification - that some of the coaches have is from doing courses at Knowledge to Action themselves," says John Wills, a former trainer who left the business earlier this year. What does Knowledge to Action have to say to that?
"We have never led any clients to believe our coaches originate from the City," the company said. "In fact, the beauty of the coaching programme is that our coaches originate from a multitude of sources, including, but not limited to, the City.
Pressure to sell
"What is common amongst our coaching team is that they are all successful traders on KTA's trading strategies, which is the important fact our clients pay for."
Former trainer John says he was introduced by the company to clients as an 'advanced trading mentor' but that he was actually contracted as a 'sales consultant'.
And he and his fellow traders were under fierce pressure to sell.
"Without question, the mentors and the coaches do use hard sales techniques to encourage clients to invest more money into Knowledge to Action for further education," he explains.
"The coaches and mentors are under pressure to sell more courses and coaching on a regular basis. Very high targets are set," John said.
Knowledge to Action say they wouldn't comment on the specifics of any sales targets but they say they're very common to the vast majority of businesses.
KTA said: "This fact is not detrimental to the quality of KTA's offering, in the same way as it is not to, say, law firms with lawyers' billing targets or FTSE 100 companies with employee sales targets."
Some of those who attend the free seminars are seduced by the sales techniques.
"I was told about how your life could be changed and there were pictures of diamonds, pictures of cash, big diamonds," explains 'Richard', one of Knowledge to Action's graduates, recalling his time on an initial two-day course.
He asked us not to use his real name because he doesn't want people to know what has happened to him.
Richard went on to pay more than £19,000 from an inheritance he had been left.
He used the money to take the Unlimited Wealth course at Knowledge to Action's training centre in London.
After five months, Richard had not made a profit from his trading.
"I thought this would be a new career, but when I saw it failing, I started to feel actually quite down," he says.
"I had hoped this was going to lead me into something, or at least lead me into being self-sufficient and financially free. But it didn't. So there was the panic about: what do I do when retirement happens?"
Knowledge to Action say they have many examples of successful clients, but that to be successful does require effort and discipline over time.
They say an overwhelmingly large number of their graduates have had a very positive and enriching experience.
One such satisfied customer is accountant David Fisher, who has been trading for nearly a year after completing one of KTA's foreign exchange courses. He will not say how much money he has made as a trader so far.
"I have to rely on my other sources of income until I get it right," he says, "but I am taking it very seriously." He believes he could become financially independent within two years.
'Almost free'
Back at the hotel in Knightsbridge, my colleague and I are in luck.
Rather than pay the full course fee of £13,000, Knowledge to Action are prepared to offer just six of us the chance to take part in a special marketing exercise to track our progress over the course of the year.
"We're going to subsidise those course fees for you so, essentially, you get to do the course pretty much almost free of charge today," he tells us.
'Almost free' turns out to be more than a £1,000 but I still catch myself looking at the other people in the room, checking out the competition for one of those six places.
By now those of us at the seminar are developing a different attitude to making money and just how easy it could be.
Earlier, we had watched a video of the company's jet-setting chief executive, Greg Secker, apparently making £19,000 in just four minutes trading on the currency markets.
There was also a video of him trading from a helicopter high above London as part of a charity event, for no apparent reason.
But is it really as straight-forward as the video suggests?
Trading expert Justin Urquhart Stewart, director of Seven Investment Management says betting on movements in foreign exchange rates is notoriously volatile.
"It's more complex than stocks," he told 5 live Investigates. "If it was that easy everyone would be doing it. This is very risky electronic roulette and you can get caught out in seconds."
"If a novice isn't trading with a true expert holding their hand, they're likely to blow the house up,"
So does Knowledge to Action have that expertise?
According to its website, the Mr was appointed a vice president of the financial services company, Mellon Financial Corp by the age of 25, where he worked around some of the very best traders in the world.
You might think that suggests he had been a trader there.
But the bank, now known as BNY Mellon, told the BBC that, while Mr Secker had been a vice president there, he had actually worked in their IT department in foreign exchange operations, reporting to a senior manager there.
Once more, Knowledge to Action told us we had been jumping to conclusions. "Mr Secker has never stated or implied that he traded for or at Mellon," the company said.
"He makes it quite clear in all his material that he was head of e-commerce for trading and learned to trade from his trader colleagues."
It is easy to see why some people would want to buy into the dream the free seminars sell.
Towards the end of the presentation in Knightsbridge, the would-be traders are shown a montage of photos of our young host at various glamorous locations around the world.
In one, he is seen soaking in a hot tub with a stunning mountain backdrop; in another he is racing huskies in the Arctic.
It lingers on the screen distractingly for the rest of the presentation.
"I'm a very visual person so I like taking pictures and looking at pictures, and putting myself in the photo," he says.
If I had not seen enough evidence of his wealth, in a quiet moment at the end he points to a rally car parked outside the hotel and tells me it is his.
"Excuse the dirt. I took it on a rally track yesterday."
For me, sadly, no fast cars awaited to speed me home.
But on the bus back, I wondered whether any of the lucky six to be offered a place would find themselves any better off after the course.
Or whether, like some of the graduates now telling their stories, they might also finish up out of pocket.
You can listen to the full report on 5 live Investigates on Sunday, 14 October at 21:00 GMT on BBC 5 live.
Listen again via the 5 live website or by downloading the 5 live Investigates podcast.