'Blame shared' over sickness benefit test problems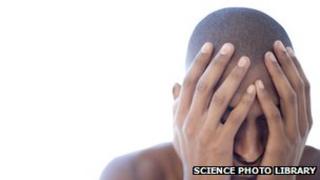 The sickness benefit testing system to find out if people are fit to work has too many problems, Employment Minister Mark Hoban has conceded.
But he said in some cases claimants "shared responsibility" when benefits were awarded only after a long appeal.
It comes after a BBC interview with a man who lost benefits for nine months before an appeal restored them.
Atos, which carries out the tests, said its surveys found 90% were "positive about their experience with us".
'Too many cases'
It was eventually recommended that the man, Adam, not his real name, was never to be reassessed again.
He told the BBC that searing pains in his feet and hands - caused by the side-effects of HIV drugs - made it impossible for him to stand or hold things for long periods.
After years on sickness benefits, he lost a third of his income after his Work Capability Assessment gave him just six points - below the 15 points required to qualify for benefits.
But at his appeal tribunal he was awarded 30 points, and the benefits were restored.
In his first interview since being appointed in last month's cabinet reshuffle, Mr Hoban said: "There are too many cases like Adam's.
"We want to make sure that the appeal process is speeded up but I think one of the important things we need to do is to make sure people do provide all the evidence that's required at the start of the process rather than waiting for the appeal.
"I'm not clear from Adam's story what happened but I would say claimants are encouraged to produce all the relevant medical information as quickly as possible."
Private company Atos Healthcare is a government contractor that conducts the tests, with final decisions made by the Department of Work and Pensions (DWP).
According to DWP statistics, 41% of claimants have appealed against decisions on their benefits after the tests, with 38% having previous decisions overturned.
Review calls
Labour MP Tom Greatrex, who has asked a series of Commons questions on the matter, said: "I have had constituents and people from all over the country contacting me who have had very similar experiences to Adam, although their conditions are different.
"People with Parkinson's, cancer, mental health conditions all find they get told they're fit for work, appeal, and then find they magically get 20 or 30 points. So this isn't, unfortunately, a unique example."
Mr Hoban rejected Labour calls, made last week, for a "fundamental review" of the system. He said there was an on-going process of "refining" it.
He added: "What's happening too often is people are suggesting to claimants 'oh, just leave the medical evidence until the appeal' - there's a shared responsibility here.'
Adam described his assessment as a series of questions posed by a nurse at a computer.
She touched his foot, he said, and noted that he flinched in pain. But that was it. He said he was "taken aback" when he learned he had been judged fit to work - and had been stripped of about a third of his benefits.
"It threw me, it worried me," he said. "I was at least £30-£40 a week worse off. It's the mental thing of holding on until the tribunal and not knowing what was going to happen afterwards or how I was going to manage."
Unfair 'scapegoating'
He got his consultant to write a letter to the DWP, but it changed nothing and he had to wait nine months before the tribunal was held and the decision reversed.
He received a lump-sum payment for lost benefits, and his weekly benefits were raised from £67 to £119.
"I was happy that it had gone through, but also quite angry because mentally it's enough living with the illness without all the other rubbish. It was hard," he said.
Deborah Jack, chief executive of the National AIDS Trust, said: "'Claimants often find the process of the benefits assessment a very difficult and traumatic experience - and no-one chooses to have their case go to appeal if it can be sorted in the first instance.
"There is clearly something wrong with the assessment when so many cases are taken to appeal and won. This is another sad example of blaming the victims rather than blaming the system - it's the process that needs to be sorted out and the scapegoating of benefits claimants needs to stop."