Newspaper review: Papers praise Cameron's speech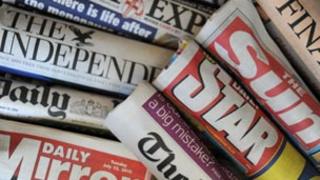 David Cameron's closing speech to the Conservative party conference wins praise in many of Thursday's papers.
His message, says the Daily Telegraph, was uncomplicated and distinctively Conservative; a belief in aspiration, hard work, decency, family and country.
The Sun says it was a serious speech for serious times; impressive and statesmanlike.
The Times, too, calls it "impressive". "Probably his finest speech since becoming the Conservative leader," according to the Daily Mail.
'Laughable claims'
The Independent saw Mr Cameron's speech as "a welcome dose of realism".
The paper says all three party conferences have seen leaders tilting to the middle ground while the hearts of their loyalists remain elsewhere.
The Daily Mirror is less impressed. It calls Mr Cameron's claim that he's "spreading privilege" as "laughable".
The Guardian's assessment of the speech is summed up by the headline over its leader column: "One statesman, two nations".
'Cesspit'
The words used by the chairman of the BBC Trust, Lord Patten, on the Jimmy Savile affair - "a cesspit" - are printed across the front of the Daily Mail.
In a nearly full-page editorial inside, the paper castigates the BBC.
The Daily Mirror wonders whether Savile's family will have to go further than removing his headstone and asks: "Will they have to dig him up?"
The Sun has a picture of the gravestone reduced to rubble and dumped in a skip, with the headline: "Rest in pieces".
Sitting duck
"Merkel scuppers BAE deal" is how The Times sums up the collapse of the planned merger of the defence giant with European group EADS.
It says there are fears BAE could now break up unless it explores tie-ups with one of the huge US defence companies.
The deal was "shot down by Merkel", according to the Daily Telegraph.
The paper says the British defence giant is now seen as a "sitting duck" for a takeover bid.