Newspaper review: Papers offer suggestions to PM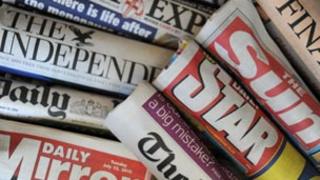 With David Cameron due to address the Conservative party conference, many of the papers have suggestions to offer.
The Daily Mirror asks him to re-write his speech, removing any paragraphs "attacking the welfare state".
The Sun says it is his chance to "convince Britain that a Conservative government is best for working people".
The Daily Express is encouraged by his comments that a referendum would be the "cleanest, neatest, simplest" way to change the relationship with Europe.
Boris love
London Mayor Boris Johnson's appearance at the conference on Tuesday was a gift for the political sketch writers.
Michael Deacon in the Daily Telegraph says he is like a political Tommy Cooper who only had to arrive on stage to set the crowd off laughing.
Ann Treneman in the Times said the Tories were "in the grip of a near religious mania as they worshipped the Blond One".
"How they loved Mr Olympotastic and how he loves to be loved," she says.
Shame
The latest revelations about Sir Jimmy Savile - who police have described as "a predatory sex offender" - are front page news in several of the papers.
The Daily Mail says other celebrities and former BBC staff could face arrest for alleged sex offences.
The Sun is demanding that the late presenter be stripped of his knighthood.
It accuses BBC executives of knowing about his actions and looking the other way, saying, "Shame on them all".
Full speed ahead
The Independent says it has been told by the Transport Secretary that plans to build the High Speed Two rail line between London and Birmingham are to be "fast-tracked" despite opposition.
He told the paper that the government must look to the long-term, and that any route will upset people.
There had been speculation that the project was being put on ice.
Patrick McLoughlin says he would work with Labour to get the scheme through parliament before the next election.