Terror suspects probed over kidnap of UK photographer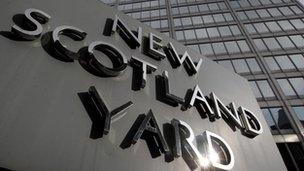 Two Britons arrested at Heathrow Airport over alleged terrorism offences are to be questioned about the kidnap of a British photographer in Syria, the Metropolitan Police has said.
The man and woman, both aged 26, were arrested at 20:30 BST on Tuesday after their flight landed at the airport.
They were held on suspicion of travelling to Syria in support of alleged terrorist activity.
Police said their possible involvement in the abduction was a line of inquiry.
British photographer John Cantlie - who had done work for the Sunday Times - and Dutch journalist Jeroen Oerlemans were taken hostage by Islamist militants in Syria for a week in July.
After the ordeal, Mr Cantlie said one captor had claimed to be an NHS doctor.
Scotland Yard said the pair arrested at Heathrow had flown into the UK from Egypt. It confirmed both were of British nationality and had been arrested over allegations of the commission, preparation or instigation of acts of terrorism.
Officers from the Metropolitan Police's Counter-Terrorism Command took the pair to a central London police station where they remain in custody.
Two addresses in east London are being searched under the Terrorism Act in connection with police inquiries, the Met said.
Foreign Secretary William Hague, speaking to the BBC, said the UK government was aware of Britons going to Syria to fight.
"That's not something we recommend, and we do not want British people taking part in violent situations anywhere in the world," he said.
Dozens of people are thought to have travelled from Britain to Syria to fight in the uprising against President Bashar al-Assad.
The BBC's defence correspondent, Frank Gardner, said some of those are believed to have made such trips have joined jihadist groups.
However, he said the Syrian conflict had attracted relatively low numbers of Britons travelling for jihadist reasons compared to previous wars in Afghanistan and Iraq.
And there is no evidence that those leaving Britain to fight in Syria have any Syrian family connections, our correspondent said.
According to activists, more than 30,000 people have been killed since the uprising against President Bashar al-Assad began in March last year. The UN estimates that at least 20,000 have died.
Jihadists - those committed to establishing an Islamic state by violent means - have been seen on the battlefield in Syria.
Related Internet Links
The BBC is not responsible for the content of external sites.