Whole life prison term challenged by five criminals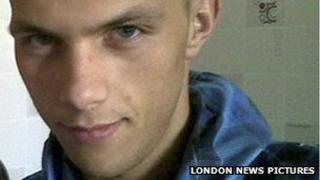 Five of the UK's leading judges have been asked to overturn sentences that will prevent five criminals from ever leaving prison.
Their cases are being heard by five judges, including the Lord Chief Justice and Lord Justice Leveson, at the Court of Appeal in London.
The men include Kiaran Stapleton, found guilty of murdering Indian student Anuj Bidve in Salford last year.
Their lawyers are asking the court to set a minimum term sentence instead.
Four of the five men were given whole life tariffs, meaning they would spend the rest of their lives in prison. Their appeals are being seen by some legal observers as a test of the whole-of-life term.
The men include the 'Bermondsey Beast' rapist Michael Roberts, 46, who became one of a small group of "life means life" prisoners after raping three victims and attacking a fourth in Bermondsey, south London.
Danilo Restivo was given a whole life tariff in June 2011 for the murder and mutilation of a mother-of-two in Bournemouth, while David Oakes, 51, shot his former partner before shooting their two-year-old daughter.
Stapleton, who is appealing a minimum term of 30 years, Oakes and Roberts, both subject to a whole-life order, watched the court proceedings via video link from their respective prisons.
'Rare cases'
Offenders become eligible to apply for parole once their minimum term has expired, but are not released until they are deemed to no longer represent a risk to the public.
David Perry QC, for the Crown, said it was seeking to "support the whole-life orders made in the cases of Oakes and Restivo", and the minimum term imposed in Stapleton's case.
He conceded that the making of a whole-life order for Roberts was "wrong in principle" but he said in making such a concession, "we are not seeking to minimise the seriousness of the offences".
He added: "Our submissions are intended to reflect the fact that a whole-life order is reserved for rare cases of exceptional gravity, where a whole-life order is made for the purpose of pure punishment, and not for public protection."
Lord Justice Leveson emphasised during the hearing that the issue being considered was not about "letting people go".
He added that if an offender was not safe to release, then they should stay in prison for "as long as it takes and if that is forever then so be it".
The judges later reserved judgment in all cases to a date to be fixed.
These five appeals come ahead of separate cases also being heard at the European Court of Human Rights in Strasbourg.
Judges there had ruled in January that the whole-life term handed down to convicted murderer Jeremy Bamber and two other men did not amount to inhuman and degrading punishment.
Condemning people to die in jail was not "grossly disproportionate" and in each case London's High Court had "decided that an all-life tariff was required, relatively recently and following a fair and detailed consideration", the judges ruled.
But that ruling will now be tested by the court's Grand Chamber in Strasbourg after a panel of five judges granted the appeal by killer Douglas Vinter, who stabbed his wife in February 2008.
His appeal means the cases of Bamber, who killed his parents, sister and her two young children in August 1985, and Peter Moore, who killed four gay men for his sexual gratification in 1995, will also be considered by the Grand Chamber judges.
BBC legal affairs correspondent Clive Coleman said the fact that Wednesday's appeals had been grouped together before such a powerful five-judge court in London, was being seen as an opportunity to clarify the sentencing of the most serious criminals before Strasbourg examined the issue.