Duke and Duchess open FA's new centre of excellence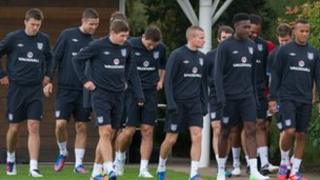 The Football Association's new centre of excellence has been officially opened by the Duke and Duchess of Cambridge.
The St George's Park complex in Staffordshire has cost £105m and will be the base of all 24 England teams.
The FA, of which Prince William is president, hopes it will help raise standards in all levels of the game.
FA chairman David Bernstein said that would happen through the training of "more and better" football coaches.
The new complex will also be a centre of excellence for training coaches and for sports medicine, sports science and psychology.
The duke and duchess joined England manager Roy Hodgson and his squad at the opening, touring the site at Burton-upon-Trent for two hours.
During his speech, the prince described the centre as a "world-class" training facility for both players and coaches.
He added: "It is also a magnificent example of the sort of social initiative that brings opportunity and purpose to wider British life.
"It will provide employment and a social hub for local people and, through the thousands of volunteers on which coaching relies, it will foster community spirit, purpose and hope throughout England".
Mr Bernstein described the facility as "inspirational", and said it made him feel optimistic about the future of football.
Youth development
He said: "This is the pinnacle clearly - and we hope that this will be an inspiration in a number of ways. One of the main objects of this, possibly almost the main object, is to produce thousands of more highly-qualified coaches.
"There's a lot more happening in English football at the moment in terms of youth development.
"We're trying to move young players away from this physical side, of wanting to win too much when they're too young.
"We want more skill-based football, kids to enjoy their football more, and there's a great deal aimed at that."
Chairman of St George's Park, David Sheepshanks, said the focus for elite players will be on making marginal but vital improvements, an approach which has succeeded for other sporting bodies such as British Cycling.
"Through sports medicine and sports science, we can concentrate on how do we shave millimetres off so the ball goes in instead of hitting the post," he explained.
"How do we prepare players better mentally and psychologically, how do we instil the discipline in players so that they take more personal ownership of their own career development, how do we train players to have that extra bit of puff to make that last attacking run that scores the winning goal, or the last-ditch tackle that saves one?"
Technically advanced
He added: "Penalty shoot-outs will also be part of it. That is part of the psychological and technical preparation, and this is the first time England has ever had its own permanent training home in which to put these things into action across all the teams."
The gym at the centre is stocked with the most technically-advanced equipment available, paid for by a sponsorship deal with the manufacturers.
The senior training pitch is the exact size of the pitch at Wembley Stadium and with exactly the same mix of grass and artificial fibres.
There are 11 outside pitches at the centre, five of which are floodlit and have under-soil heating.
The England squads will stay in a new hotel built as part of a deal between the FA and Hilton, where they will have their own private dining area and games room.
Players in the senior squads will not be expected to share rooms, while England manager Roy Hodgson will be based in the Sir Bobby Charlton suite, which has a separate living room and large balcony area.
The FA announced in 2001 that it had acquired a site at Burton-upon-Trent, but it was mothballed as the costs of building the new Wembley stadium stretched the FA's finances.