Newspaper review: Papers analyse Tory direction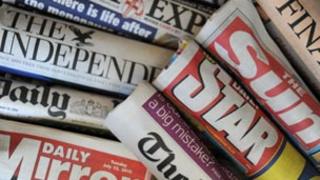 "Welcome to the Nasty Party Conference" is how the Independent describes the gathering of the Tory faithful for a second day in Birmingham.
The paper says plans to slash another £10bn off the welfare bill, a mass rally against gay marriage and calls for restrictions on abortion have undermined David Cameron's attempts to modernise the party's image.
The Guardian says progress has been made under his leadership but there are signs that under pressure "the Conservatives are reverting to type".
Benefits debate
The Daily Mirror believes the planned welfare cuts are a "vicious assault on the poor and vulnerable".
But for the Daily Express it is nothing more than a stepping-up of the "war on scroungers".
The paper says people should be required to pay taxes "for a good few years" before they can claim benefits.
"It's not the middle classes who are bankrupting Britain but the free-loading underclass," the Express declares.
Hoax calls
The prime minister's call for the BBC to conduct a full investigation into allegations of sexual abuse by Jimmy Savile is widely reported.
The Sun launches a petition for the former DJ and television presenter to be stripped of the knighthood he was awarded in 1990.
Meanwhile, the Guardian reports that nearly 2,000 hoax or inappropriate 999 calls were made in 2011.
These include a man seeking help for a pigeon with breathing difficulties.
Bond gadget
The Times reports that more than 100 people have reduced their tax bills by investing in schemes to look for undersea treasure.
These apparently include celebrities and leading businessmen in the UK.
Finally, the Daily Mirror says Sir Roger Moore revealed his favourite James Bond gadget was the magnetic watch used unzip Madeline Smith's skirt in Live and Let Die.
Sir Roger was speaking at the Cheltenham Literature Festival.