Supergrass law leads to wholesale prison sentence cuts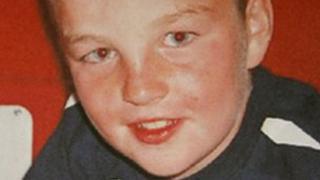 New supergrass laws have led to some murderers, gangsters and drug dealers having their prison sentences cut by more than 80%, a BBC Panorama investigation has found.
The use of supergrasses had been largely discredited until new laws were introduced in 2005 to allow their limited use with strict conditions.
But detailed analyses of 49 supergrass cases since then found almost half of the informants had their jail time cut by more than two-thirds - and a quarter of them were cut by more than 80%.
In most cases, the supergrasses - informants who admit their crimes and testify against others in exchange for reduced sentences - had pleaded guilty to very serious crimes.
The Crown Prosecution Service (CPS) said the courts have established that sentence discounts of more than two-thirds should only be used in "very exceptional cases".
Under the 2005 Serious Organised Crime and Police Act, informers can receive total or partial immunity from prosecution.
If they do serve jail time, they may also be given new homes and identities when they leave prison.
'Vendettas to settle'
Defence lawyer Michael Mansfield said supergrasses were "inherently dishonest" witnesses who act out of self-interest, knowing that there is a reward in it for them.
He said the issues that caused the use of supergrasses to be curtailed in the 1980s are once again in play and said prosecutions based solely on the evidence of informers should not be permitted.
"These people will know about crime, but in order to inveigle their way into their favour, they dress it up...they put people at the scene were not there...they have axes to grind, they have vendettas to settle."
The new supergrass law involves a signed contract with the CPS to give evidence against criminal associates on the understanding that they might have their own jail terms discounted.
The CPS continues to cut supergrass deals despite the collapse of several high-profile criminal trials that relied on supergrass evidence.
In February this year the first supergrass trial in Northern Ireland in 25 years - which does not fall within the CPS' jurisdiction - resulted in 12 men being acquitted of all charges against them after a judge said the two main prosecution witnesses were liars and "ruthless terrorists".
And in 2010, the prosecution of a leading member of a Newcastle crime family, John Henry Sayers, on charges of perverting the course of justice, also collapsed after it was revealed that key evidence that proved a supergrass had lied was not disclosed to the defence team.
The judge in the case said there had been "a deliberate conscious decision to flout the rules" by the prosecution.
That failing led to an acknowledgement from the CPS that the disclosure system had gone very wrong.
Alison Levitt, the CPS' Principal Legal Advisor to the Director of Public Prosecutions, said it was a "painful experience for everybody concerned".
"We're now dealing with disclosure with new systems in place to make sure that this sort of thing never happens again," she added.
'Trade-off'
Andy Cooke of the Association of Chief Police Officers (ACPO) said supergrass deals should not be offered to key participants in a crime.
"We always look at subordinates to the key offence itself...for example someone who may have driven a car away from an offence, as opposed to one who struck a fatal blow in an offence."
Supergrass evidence was also used in 2008 when a teenage gang member was given complete immunity from prosecution in exchange for his testimony against Sean Mercer.
Mercer was convicted of the murder of Rhys Jones, the 11-year-old Merseyside schoolboy caught in the crossfire of rival gangs.
Rhys Jones' father, Stephen Jones, said the supergrass deal was "a good trade-off" as it ensured the main offender was convicted.
Panorama: Return of the Supergrass, BBC One, Monday, 8 October at 20:30 BST and then available in the UK on the BBC iPlayer.