Conservatives scrutinised ahead of conference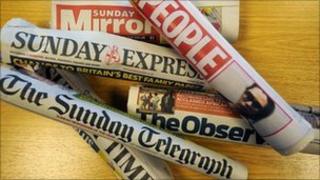 The Conservative Party features prominently on most of Sunday's front pages, ahead of its annual conference.
Both the Sunday Telegraph and the Sun have interviews with Prime Minister David Cameron.
He tells the Telegraph that he has not spent enough time explaining the government's policies.
And the Sun reports that the prime minister has said that his government improve after a "tough year" of "mistakes and difficulties".
Several papers note that the Mayor of London, Boris Johnson, will address the Conservative conference on Tuesday.
But Andrew Rawnsley, in the Observer, says there will not be a leadership challenge from Mr Johnson anytime soon.
In the Mail on Sunday, Chancellor George Osborne rules out a mansion tax.
"Osborne: My tax gift to Middle England," is the paper's front page headline, under which the chancellor also outlines his decision to freeze council tax in England.
The Independent on Sunday devotes several pages to allegations of underage sex involving the late BBC presenter Sir Jimmy Savile.
And the The Sunday Times reports that charities set up by the star are to drop his name and give money to victims of sexual abuse.
Meanwhile, a vow by police to find missing April Jones is the front page story in the Sunday Express.
"We'll never give up on April," reads the paper's headline.
The Observer leads on a letter to David Cameron by phone-hacking victims.
They say they are "alarmed" by reports that ministers might allow newspapers to continue regulating themselves.
Moors Murderer Ian Brady "died" after suffering a fit in hospital but was brought back to life against his wishes, reports the Sunday Mirror.
It says his mental health adviser revealed that the killer's heart stopped for several minutes during the alleged incident in the summer.