Newspaper review: Conservatives in moment of 'uncertainty'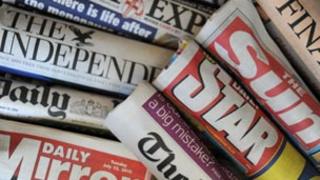 There is no shortage of advice for Prime Minister David Cameron as he prepares for the Conservative Party conference.
The Times says he will speak to the party at a moment of peak uncertainty in UK politics and it should be seized as a chance to offer a clear mission.
The Daily Telegraph believes the party needs to recapture its spirit of 2007 and come out fighting.
But Mr Cameron will be speaking to a party that has never believed so little in him, warns the Financial Times.
In the Guardian, the head of the Policy Exchange think tank says Mr Cameron has failed to heal the party's worst wounds and it is seen as the party of the rich.
Mr Cameron will start the conference by scoffing at Labour leader Ed Miliband and saying he is hell-bent on moving the UK to the left, the Sun reports.
Meanwhile, the Times says Mr Miliband has had an excellent week.
And the Independent reports the prime minister and Chancellor George Osborne are losing the trust of business.
Furious denial
The swirl of allegations surrounding the late Sir Jimmy Savile continues to grow.
About 40 women have now come forward claiming they were raped or molested by Sir Jimmy, reports the Daily Mail.
It also notes the BBC's new director general, George Entwistle, has written to staff urging them to help police and promising to leave no stone unturned.
And the Daily Mirror and Daily Telegraph carry an furious denial by comedian Freddie Starr of allegations that he abused girls with Sir Jimmy.
Elsewhere, Foreign Secretary William Hague tells the Daily Telegraph UK voters could decide on the EU at the election rather than in a referendum.
The Financial Times says Brussels is braced for a battle with Britain, with fears Mr Cameron will try to block the budget and push for a two-tier one.
Finally, a wet spring and summer has left UK shops forced to put up with selling ugly fruit and vegetables.
But Sainsbury's reminds the Independent that beauty is only skin deep.