West Coast Main Line: Civil servant Kate Mingay speaks out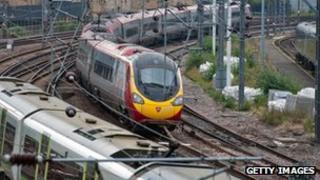 One of three civil servants suspended over flaws in the West Coast Main Line franchise competition has criticised the Department for Transport.
Kate Mingay, who is responsible for commercial and technical services, said there were "complete inaccuracies in the portrayal of her role".
The award of the franchise to FirstGroup was scrapped after ministers found bidding process flaws.
The DfT has refused to provide more details regarding the matter.
After consulting lawyers Mrs Mingay, a Cambridge-educated economist who previously worked at city bank Goldman Sachs, abandoned her anonymity to issue a statement in which she said she did not have lead responsibility for the West Coast Main Line project.
She said: "'While it has been widely reported in the context of the award of the franchise for the West Coast Main Line that I have been suspended, my role has been inaccurately portrayed, mainly due to statements and other comment made by the Department for Transport itself.
'Terrible mistake'
"I would like to make it clear that I did not have lead responsibility for this project. Neither I nor any member of my team had any responsibility for the economic modelling for this project or for any Department for Transport project.
"Nor did I have any responsibility for the financial modelling in respect of this project."
She said she wanted to correct what she called the "completely inaccurate portrayal" of her role immediately and would co-operate fully with enquiries into the matter.
The franchise award was scrapped on Wednesday.
Earlier this week, Transport Secretary Patrick McLoughlin said a "terrible mistake" in evaluating the relative merits of four bids had been made by Department for Transport staff and that the fault lay "wholly and squarely" with the department.
Staff reportedly failed to include predicted passenger numbers and inflation forecasts in some of the risk assessments of the rival bids from firms.
'Bizarre' suspensions
They included Sir Richard Branson's Virgin Trains, which currently runs the route - which links London with Glasgow and Edinburgh via the Midlands and north-west of England.
Mr McLoughlin said the estimated cost of reimbursing the four companies for the cost of their bids would be £40m.
Former Transport Secretary Justine Greening has said she did not know about the problems.
The BBC's Robin Brant said a source close to Mrs Mingay described her suspension as "bizarre" and said she had spoken out as the DfT had "not seen fit to clarify" the information.
The BBC understands that she has been suspended on full pay, pending the outcome of two separate investigations.
Meanwhile, in a brief statement, the DfT said "no further details would be issued".