TV advert bids to boost turnout in police commissioner vote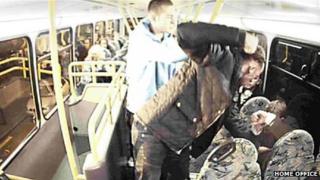 TV adverts aimed at raising the profile of the forthcoming Police and Crime Commissioner (PCC) elections have been launched by the government, amid fears of a disappointing turnout.
Voters in England and Wales, but not London, will be asked to elect a single person to oversee their police force.
Commissioners will replace the existing Police Authorities, which some MPs believe have been ineffective.
The role comes with a salary of between £65,000 and £100,000.
Candidates will vie for roles in 41 police areas.
The adverts are pretty graphic, showing drug dealing, yobs punching commuters, fly-tippers shouting abuse and a car wing mirror being kicked off.
Turnout concerns
The voiceover tells viewers that they can soon vote for someone to set their local policing priorities.
Some will say the government is trying to frighten a deeply apathetic electorate into embracing one of the government's most radical reforms.
Ministers are worried about turnout in these elections for an unfamiliar role on a dark and possibly wet day in November.
There have been predictions that fewer than 15% of the electorate will cast a ballot in the PCC contests.
Damien Green, the policing minister, has refused to commit to a percentage that would represent success.
He said: "We are for the first time introducing democracy into the control of policing at a local level.
"Everyone will get a say on how their local towns and streets are policed."
But the credibility of these new commissioners, and the mandate they will be able to claim, will depend on a much higher level of public engagement than has so far been apparent.
Jon Collins from the Police Foundation, said: "A lot will depend on the individuals who are elected and the number of people who turn out to vote for them on 15 November.
"I think a respectable turnout is essential to give the Police and Crime Commissioners legitimacy in their work with chief constables," he added.
Ministers hope the new adverts will give a bit of much needed momentum to the implementation of a policy that has been in the Tory pipeline for 10 years.
But, there are plenty of nervous officials. Nothing quite like this has been attempted anywhere in the world.