The extradition suspects 'who led to Bin Laden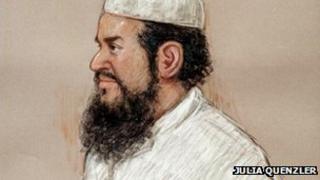 Media coverage of this week's dramatic High Court battle over the extradition to the US of five terror suspects has focused on the cases of Abu Hamza al-Masri and the British computer experts Babar Ahmad and Talha Ahsan.
Few column inches have been devoted to the two men who are being dispatched for trial along with them - men who have in fact been held for far longer than the others and face more serious charges. Men who American investigators say provided vital leads to how al-Qaeda grew.
US investigators believe Khaled al-Fawwaz and his co-defendant Adel Abdul Bary were closely linked to Osama Bin Laden in the infancy of al-Qaeda and that their arrests led to a major breakthrough in understanding how the terror group worked.
Mr al-Fawwaz arrived in London in the early 1990s and was granted asylum from his native Saudi Arabia.
He is alleged to have set up the media headquarters of al-Qaeda and to have published Bin Laden's notorious rulings to kill Americans and their allies.
War declaration
Mr al-Fawwaz shared an office with Adel Bary, an Egyptian with close links to the current leader of al-Qaeda, Ayman al-Zawahiri.
The two men benefited from the reluctance of the British authorities to clamp down on the growing number of Islamist extremists who were using London as a base to advocate violent confrontation with the West.
This week's High Court hearing heard claims that Mr al-Fawwaz was in regular contact with the security service MI5 in the mid-1990s.
His lawyer, Edward Fitzgerald QC, said his client had asked MI5 if he would be breaking the law by remaining in contact with Bin Laden following his 1996 declaration of war on the US.
Mr Al-Fawwaz claims he was told it would be okay so long as the two did not discuss any criminal conduct. It has not been possible to verify this claim.
But, by 1996, Mr al-Fawwaz had come to the attention of the FBI. A young Arabic-speaking agent called Ali Soufan was tracking the growth of al-Qaeda.
When they are eventually brought before a US jury, it is likely that one of the witnesses testifying against them will be Mr Soufan. He has written extensively about the times in his book, The Black Banners.
Speaking to the BBC from New York and setting out the US's allegations against them, he said: "Al-Fawwaz was a very serious player. He was with Osama Bin Laden in Afghanistan.
"He was a trusted person who was sent by Bin Laden to set up a cell in East Africa as a base. Then he was sent to London."
What the FBI began to uncover in London provided crucial insights into the growing threat posed by al-Qaeda as it spread its network across the globe.
That threat was brought home when 224 people were killed in the bombings of two US embassies in East Africa in 1998. It did not take long before the trail led detectives back to London.
'Big breakthrough'
Counter-terrorism officers at Scotland Yard, working alongside the FBI, launched Operation Challenge in which Mr al-Fawwaz, Mr Bary and another Egyptian, Ibrahim Eidarous, were arrested.
Their names were included alongside Osama Bin Laden on a staggering 319-count indictment drawn up by the US authorities in the aftermath of the embassy bombings.
Mr al-Fawwaz was charged with 285 counts of criminal conduct, including 269 counts of murder. Mr Bary faced allegations of conspiracy to murder and to kill US nationals.
They are alleged to have received faxes claiming responsibility for the attacks hours before they took place - so that they could send the information to the media.
These allegations have only ever been heard in relation to the extradition hearings and have not been put to the men in a trial.
Ali Soufan said the investigation into the men "helped us put the organisation of al-Qaeda together… it was a big breakthrough."
But he adds that he had thought it would take a "couple of years" to extradite the men.
In fact, in 2000, the Queen's Bench Division of the High Court ruled there was strong enough evidence to support the extradition.
It is only now, 12 years on and after the European Court of Human Rights has looked at the case, that the same London court has reached the same conclusion as before, paving the way for the removal of Mr al-Fawwaz and Mr Bary.