Newspaper review: Obama loses ground in presidential TV clash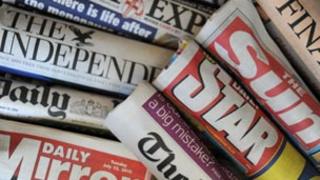 The Independent considers the recent televised debate between US President Barack Obama and his Republican challenger, Mitt Romney.
On its front page, the paper asks: "Could Obama's complacency cost him the election?"
The Independent concludes that during the debate in Denver Mr Obama "was for whatever reason unwilling to take the battle to Mitt Romney".
The assessment in the Guardian is: "Game on: Republicans hail Mr Romney after resounding win in TV debate."
The Daily Telegraph's leader says that Mr Romney came across as "the small-state, low-tax candidate that he actually is".
In the Sun, the former Conservative MP Louise Mensch - who left the Commons to relocate to the US - writes that "quite simply, Romney blew Obama away".
'Desperate plea'
The Daily Mirror leads on the continuing search for April Jones in mid Wales.
It says two women saw a man with a bin bag near a river in the area on Tuesday - the day after April was last seen.
The Daily Express highlights what it calls the "desperate" plea for information by April's teenage sister.
According to the Times, one of the world's leading forensic psychologists has been drafted in to help detectives who are questioning a local man.
The paper says the expert helped police during the search for Madeleine McCann.
Savile allegations
The Sun reports that police across the country are on alert for more alleged victims of sexual abuse by Sir Jimmy Savile to come forward.
The paper claims the late TV star told troubled under-age girls to call his BBC dressing room in the early 1970s.
The Daily Mail is furious that the UK will pay £1bn extra to the European Commission, which overspent this year.
The paper says British people are "sick of being taken for fools".
The Daily Express describes how all the former members of a school rugby team reunited for a photo 50 years later.
The odds against the entire former Portsmouth Grammar School team still being alive were thought to be more than 250,000 to one.