Met Police to assess Jimmy Savile claims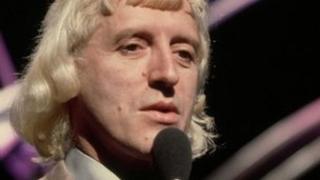 The Metropolitan Police has said it will take the national lead in assessing allegations against the late DJ and presenter Jimmy Savile.
The force said its Child Abuse Investigation Command would look into the allegations, but said: "It is not an investigation at this stage".
It urged anyone with information to contact their local police.
Five women alleged that Sir Jimmy sexually assaulted them as teenagers in an ITV documentary on Wednesday.
It featured historic accounts, which detailed how the presenter allegedly targeted girls in his BBC dressing room and private Rolls-Royce car during the 1970s.
The assessment would be made the Serious Case Team of the Child Abuse Investigation Command under the leadership of Det Supt David Gray, the force said.
A spokesman said: "Our priority will be to ensure a proportionate and consistent policing response putting the victims at the heart of our inquiries.
"It is too early to say how many individual allegations there are, and we will be making contact with all those concerned in due course."
BBC investigation
Scotland Yard said it would be working closely with the BBC's internal investigations unit, which is responsible for the safety and security of BBC staff.
This week it emerged that Surrey, Sussex and Jersey Police had received complaints about Sir Jimmy but concluded there was not enough evidence to pursue them.
The Met is currently considering a number of allegations including a rape claim from some years ago referred to it by Surrey Police, while Northamptonshire Police have been contacted by two alleged victims.
Scotland Yard was appointed to lead the assessment after the Association of Chief Police Officers (Acpo) looked at the claims.
An Acpo spokeswoman said: "Following an initial assessment of a number of allegations made against the late Sir Jimmy Savile, a decision has been made to appoint a lead force to manage the police and child protection response. The Metropolitan Police Service has been appointed as the lead force."
When allegations from the ITV documentary surfaced earlier this week, the BBC issued a statement saying it was "horrified" by suggestions that assaults took place on BBC premises, "or have been carried out by anyone working at the BBC".
They said they would offer "full support" to any police investigation.
Earlier, the BBC said there was "no evidence" to suggest Newsnight was urged to drop an investigation into allegations of sexual assault by Sir Jimmy.
David Jordan, the BBC's director of editorial policy and standards, said any interference from BBC management would only have made reporters "more determined to do it".
"I don't think it's credible... to suggest that senior managers could influence the conduct of an investigation of that sort," he told BBC Radio 4's Today programme.
Sir Jimmy Savile died in October 2011, at the age 84. The face of Top of the Pops in the 1960s, and host of 1970s TV favourite, Jim'll Fix It, he was knighted in 1990 for his prolific charity work.