Mau Mau torture court ruling awaited by Kenyans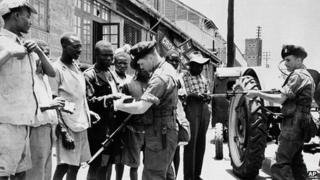 Three Kenyans once tortured by British colonial authorities are to learn if they can proceed with their legal claims against the British government.
The High Court in London is to decide whether the case should be dropped because of the time elapsed since the Mau Mau uprising in the 1950s.
The government has already accepted its colonial forces tortured detainees.
But it says a fair trial is no longer possible because the events occurred too long ago.
One possible outcome of this landmark case is an out-of-court settlement and the negotiation of a welfare scheme to help the elderly Kenyans. However, it could also mean a full trial takes place in the future.
The government had initially argued that all liabilities were transferred to the Kenyan Republic upon independence in 1963 and that it could not be held liable now.
But in 2011, a High Court judge ruled the claimants - Paulo Muoka Nzili, Wambuga Wa Nyingi and Jane Muthoni Mara - did have an arguable case.
The claimants' lawyers allege that Mr Nzili was castrated, Mr Nyingi was severely beaten and Mrs Mara was subjected to appalling sexual abuse in detention camps during the rebellion.
A fourth claimant, Ndiku Mutwiwa Mutua, has died since the High Court ruling that the test case could go ahead.
The three Kenyans want an official apology and damages to set up a Mau Mau welfare fund for the hundreds of Kenyans their lawyers say also suffered.
The hearing will have access to an archive of 8,800 secret files that were sent back to Britain after Kenya gained its independence in 1963.
Earlier this year, the South African Nobel peace prize laureate, Archbishop Desmond Tutu, wrote to Prime Minister David Cameron, accusing Britain of trying to evade legal responsibility for colonial-era crimes.