French Alps murders: 'Long task' to solve case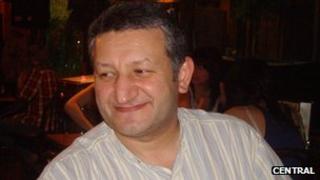 There is no hope "in the near future" of solving the murders of an Iraqi-born British citizen and his family in the French Alps, a chief prosecutor says.
Eric Maillaud said the inquiry into the shootings in Annecy in early September was a "long task".
Saad al-Hilli, 50, from Surrey, was found dead in his car, along with his wife and her 74-year-old mother.
Daughter Zainab, seven, was found shot but alive and her sister, Zeena, four, was found hiding under bodies.
A French cyclist, Sylvain Mollier, 45, was also shot dead.
The family - including Mr al-Hilli's dentist wife Iqbal, 47, and her mother, were murdered in their car while on holiday near Chevaline, close to the tourist destination of Lake Annecy.
French and British police have formed a joint task force comprising Surrey police, French police and French magistrates, with the aim of speeding up the flow of information between the two countries.
Officers have been investigating Mr al-Hilli's work as an engineer, his family connections and possible links in Iraq, where he was born.
Mr Maillaud said: "We're investigating everything but it all takes a lot of time, trying to piece together the lives of all the people who have died, trying to perhaps understand a real motive, the real reasons for these killings.
"Perhaps if we can understand why they were killed we can work out who killed them, but at the moment there are many questions.
"I think the investigation will take a very, very long time, unless we discover something that will suddenly enable us to understand everything.
"There are lines of inquiry but each raises so many questions and nothing suggests there will be a quick solution."
He also said it was too early to determine whether officers would need to travel to Iraq as part of the inquiry.