Abu Hamza judge questions appeal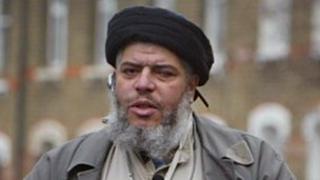 A High Court judge has questioned whether new medical evidence on Abu Hamza al-Masri is reason enough to delay his extradition to the US.
The terror suspect's lawyers said eight years in prison had resulted in chronic sleep deprivation and depression.
They said he was unfit to plead at a trial and follow the proceedings.
But the judge said Abu Hamza could be treated in the US, and "the sooner he stands trial the better". A judgement in the case is expected on Friday.
Abu Hamza's application for an injunction to delay the case came after the European Court of Human Rights (ECHR) backed successive UK courts in ruling that the radical cleric could be handed over to the US.
The 54-year-old is among five men asking judges to grant injunctions against their extradition to the US where they are wanted on terror charges.
Abu Hamza's lawyer Alun Jones QC told the court his client had spent eight years in the high security wing of Belmarsh prison in south-east London in what he described as "utterly unacceptable conditions".
He said prison officers had been switching on Abu Hamza's cell light hourly during the night to see if he is moving.
'Abuse of process'
Mr Jones said the preacher was suffering memory loss, depression, problems with his attention and needed an MRI (magnetic resonance imaging) scan to establish the health of his brain. Abu Hamza was also suffering from diabetes and extensive psoriasis, he said.
Mr Jones said a scan could establish whether he was suffering from some organic, degenerative condition affecting his ability to concentrate on legal proceedings, and thus his fitness to plead.
He asked for the extradition to be halted until Abu Hamza's health had been properly assessed.
Sir John Thomas, President of the Queen's Bench Division and one of two judges hearing the case, said he did not understand how this was a reason to delay extradition any longer.
He said: "There are excellent medical facilities in the United States.
"The sooner he stands trial the better. If he is at risk of a degenerative condition, the sooner he is put on trial the better. I don't see how delay is in the interests of justice.
"On the evidence before us, the risk of a degenerative condition can only strengthen the case for extradition."
James Eadie QC, for the home secretary, said that the radical cleric's application to stay extradition on medical grounds amounted to an abuse of process at the last moment.
He said it was "inherently unlikely" that Abu Hamza's mental health suddenly worsened after the ECHR ruling in April.
New reasons
The High Court, which also heard submissions on behalf of the other terror suspects, will announce its decision on their cases on Friday.
Mr Eadie said if the judges ruled in the home secretary's favour then that "effectively is the end" as no further forms of appeal are available in criminal cases.
Sir John also said it was the "final court if we refuse permission".
BBC home affairs correspondent Danny Shaw says it is likely the five would be flown to the US very quickly if they lose the case.
To avoid extradition, Abu Hamza, Khaled al-Fawwaz, Syed Ahsan, Babar Ahmad and Adel Abdul Bary must convince the court that there are "new and compelling" reasons for their cases not now to proceed.
On Tuesday, Mr Jones said the "uncontradicted medical opinion" was that an MRI scan was "medically necessary" for Abu Hamza, and he should not be extradited to the US before tests were carried out.
Abu Hamza, a former preacher at Finsbury Park Mosque in London, is accused of planning a terror training camp in Oregon and assisting hostage-taking in Yemen.
He was arrested at the request of the US in May 2004 - but the extradition was halted when the UK decided to try him on allegations relating to his sermons. He was convicted in 2006.
Mr al-Fawwaz and Adel Abdul Bary are accused of being aides to Osama Bin Laden in London.
Mr Ahmad, a computer expert from South London, has been held in a UK prison without trial for eight years after being accused of raising funds for terrorism with his co-accused, Mr Ahsan, through a website.