Newspaper review: April Jones search continues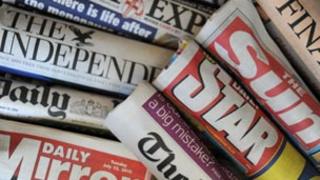 The Daily Express describes what it calls the "desperate search" for April Jones , the girl missing in Mid-Wales.
The volunteers who joined the search despite torrential rain are described by the Daily Mail as "an extraordinary mixture of ordinary people".
The Guardian talks of the town of Machynlleth pulling together, while the Daily Telegraph sees the mood turning "from hope to desperation".
The Times speaks of a "frantic hunt" along the river.
Slick performer
Many papers believe Ed Miliband enjoyed something of a triumph with his Labour conference speech on Tuesday.
The Daily Express believes it was a miraculous transformation "from toothy oddball to slick political performer in the Blair mould".
Simon Hoggart of the Guardian thinks that Mr Miliband appeared to be enjoying himself.
Matthew Engel of the Financial Times views the performance as "an initiation ritual" like "fire-walking."
'Empty vessels'
"The geek done good" is how Kevin Maguire of the Daily Mirror sums it up.
The Sun is less convinced, reminding its readers of the old adage "they say empty vessels make the most noise".
The Daily Star thinks Mr Miliband still has his work cut out, "convincing voters that he has what it takes to be prime minister".
The Financial Times thinks his comments on banks and companies could undermine "fragile business confidence and entrepreneurial zeal".
There were few specifics, admits the Guardian, but it says "this is not yet the moment for details".
Parsnip trees
Concerns about high definition CCTV systems are expressed by the UK's first surveillance commissioner, Andrew Rennison, in the Independent.
And the Daily Mirror features a new survey about the nation's apparent lack of knowledge about food.
One in five people think parsnips grow on branches while others believe melons come from under the ground.