Computer hacking arrests: 'Jonathan Rees and Alex Marunchak' bailed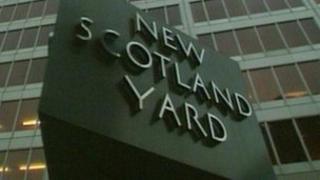 A 61-year-old journalist and a 58-year-old man have been arrested as part of a Met Police probe into computer hacking.
The two men, who were later bailed, were the News of the World's former Ireland editor, Alex Marunchak, and private investigator Jonathan Rees, sources told the BBC.
They were arrested on Tuesday at their homes by officers investigating criminal breaches of privacy, as part of probes relating to phone hacking.
The Met did not confirm their names.
Police said they were arrested on suspicion of offences under Section 3 of the Computer Misuse Act 1990 and Sections 1 and 2 of the Regulation of Investigatory Powers Act 2000.
Both arrests were made shortly before 07:00 BST and searches were carried out at the properties, police said.
The 58-year-old, understood to be Mr Rees, was arrested in Surrey and was interviewed at a police station in south London. He was bailed on Tuesday night to return to a south London police station later this week.
The 61-year-old, understood to be Mr Marunchak, was arrested in Kent and was interviewed at a Kent police station. He was also bailed to return to a central London police station in mid-February.
Sixteen arrests
Both men were the subject of a Panorama investigation into hacking in 2011.
The programme alleged that Mr Marunchak was sent emails hacked from the computer of a former British intelligence officer, Ian Hurst. He denies this.
It also alleged Mr Marunchak commissioned Jonathan Rees, who ran the Southern Investigations agency, to obtain "exclusive" stories from confidential police sources. Mr Rees has denied acting illegally.
The arrests are part of Operation Kalmyk, the name for an investigation into journalism-related computer hacking which is being carried out by Operation Tuleta.
Tuleta is one of three linked Met police probes into phone hacking. Sixteen arrests have now been made as part of this operation, police said.
The investigations were set up in the wake of the scandal over phone hacking, which closed the News of the World newspaper last year.
Operation Elveden is investigating corrupt payments by journalists to officials, while Operation Weeting is the Met's investigation into phone hacking.