Newspaper review: mixed feelings before Miliband speech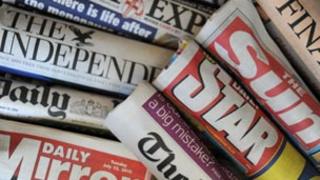 The Independent says a double blow in the opinion polls is casting a shadow over Ed Miliband's big day, when he addresses the Labour conference in Manchester.
It says only one in five people believes he would be a good prime minister and that the Conservatives are more trusted than Labour on the economy.
The Sun welcomes Mr Miliband's proposal of a new vocational qualification.
But it says Labour has a long way to go to rebuild trust on education, as well as on the economy.
The Daily Mail agrees, saying it wants more convincing arguments from Mr Miliband if he is to become prime minister.
According to the Daily Telegraph, several of Mr Miliband's senior colleagues believe many voters still don't know who he is.
The Guardian argues that the speech by the shadow chancellor, Ed Balls, to the Labour conference on Monday was "well-judged".
But it wishes he had apologised for, in its words, "hugging the City too close".
The allegations of sexual abuse against Sir Jimmy Savile are the lead story for the Mail, the Sun and the Star.
The Mail and the Sun feature various women who have come forward to accuse the entertainer of abusing them when they were younger.
"Beware of the exploding washing machine doors", the Daily Mail warns.
It says families are reporting shards of glass flying across kitchen floors without warning.
The consumer group Which? is looking into more than fifty recent incidents involving several major brands.
The Daily Mirror quotes one expert as saying the faster spinning washing machines appear to be the problem, because many spin too fast for their quality of build.
The Times and the Express describe Europe's Ryder Cup win as a "miracle", while the Sun says sporting comebacks do not come any bigger.
The Mirror believes the victory was a repeat of the Olympic and Paralympic spirit shown this summer.