Wristbands sold in honour of PCs Hughes and Bone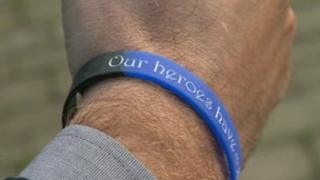 Wristbands have gone on sale in honour of two Greater Manchester Police officers shot dead on duty to raise money for their families.
PCs Nicola Hughes and Fiona Bone died in a grenade and gun attack while responding to a call-out in Mottram on 18 September.
The Police Federation has had 20,000 wristbands made, inscribed with their collar numbers and the date they died.
They are on sale for £1 with all money raised donated to the PCs' families.
Initially the wristbands have been made available to the force's 7,000 officers and 5,000 support staff to buy.
Any wristbands left will then be sold in shops across the country and more will be ordered if demand for them outstrips supply.
Deputy Chief Constable Ian Hopkins said the wristbands were a "fitting tribute".
The funeral of PC Nicola Hughes is due to be held on Wednesday, while that of PC Fiona Bone takes place on Thursday.
They were remembered at a National Police Memorial Day service for officers killed on duty on Sunday.
Dale Cregan, 29, has been charged with their murder, and the murders of two men.
The case at Manchester Crown Court has been adjourned until November.