Newspaper review: Ryder Cup 'Miracle in Medinah' hailed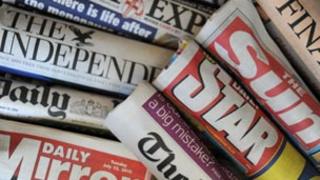 The Ryder Cup was still under way as Monday's papers went to press, leaving it to online editions to hail the European team's "Miracle in Medinah".
"Unbelievable theatre, unimaginable tension, barely credible outcome," is how the Independent describes it.
"Europe conjured up the spirit of Seve Ballesteros," says the Daily Mirror.
An obscene comment about Ballesteros by a US fan, and other alleged abuse from spectators, is being investigated by organisers, says the Daily Telegraph.
Bankers warned
A planned "new generation of shrunken schools" is the lead in the Guardian, which says new schools will be built 15% smaller than in recent years.
"Corridors, assembly halls, canteens and atriums will be squeezed," it says.
"Bad bankers warned: repent or go to jail," declares the Independent front page headline.
Interviewed by the paper, financial services regulator Martin Wheatley "promises criminal prosecutions in every 'dark corner of the City'".
'Hooked'
Leading with its own investigation, the Times reports "years of mistreatment" in the NHS of tranquillizer addicts.
Numbering more than one million, they "significantly outnumber those hooked on illegal drugs", the paper says.
Following sex abuse allegations against Sir Jimmy Savile, the Daily Mail reports "growing anger" against the BBC "amid claims it turned a blind eye".
Former presenter Esther Rantzen claims she heard abuse rumours. The BBC says it has found no evidence of misconduct.
Glowing, gone
A picture reproduced in several papers shows the autumnal scene of a 15th Century cottage in Conwy, north Wales, blanketed in red and golden leaves.
"Summer goes out in a blaze of golden glory," declares the Daily Express, while the Mail asks: "Has autumn's glow ever been more glorious?"
But it goes on to warn "the outlook is less rosy for the rest of the week".
Under the headline "Flood and gusts", the Mirror warns that "bad weather is due to return with a vengeance".