Newspaper review: Polls differ on Labour Party's popularity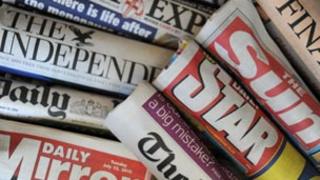 Many of Saturday's newspapers focus on the Labour Party conference in Manchester.
An ICM poll for the Guardian gives the party a 10-point lead over the Conservatives, on the eve of Labour's conference.
However, a Conservative-commissioned poll reported in the Times finds most voters do not see Ed Miliband as prime minister material.
"Ahead in the polls but miles off power," is the verdict in the Daily Express.
The Daily Mirror wants to hear a vision for Britain from the "thoughtful, caring man with a glint of steel".
Crash deaths
There are dramatic pictures in the papers of the plane crash in Nepal that killed 19, including seven Britons.
"Horror in Himalayas," is the Mirror headline. The Express says Nepal is "one of the world's most dangerous countries in which to fly".
Former UN secretary general Kofi Annan tells the Times that Tony Blair was the one person who could have stopped President Bush going to war in Iraq.
"Britain was the only one that teamed up with him," Mr Annan says.
Love-hate relationship
"Humiliating and humbling" is the Independent's assessment of Apple's apology for the inaccuracy of its new maps application, unveiled on the iPhone 5.
The paper highlights that Apple has even recommended rival products.
The Times reports on the 25th anniversary of Ikea's arrival in the UK - and its "love-hate relationship with British consumers" ever since.
The paper's Hilary Rose recalls 1987 as a "dreadful time for music and hair, but not for sofas".