Judge frees killer jailed after Number 10 protest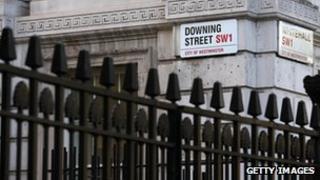 The High Court has ordered the release of a man jailed in the run-up to the Olympics, because of terrorism-related convictions dating from the 1970s.
The man, who cannot be named, was returned to prison after attending a political protest at Downing Street.
He was given four life sentences more than 30 years ago for offences including murder.
But a judge said he had made progress in the four years since his release on parole, and should be freed once again.
The court had heard that the man was originally jailed for murder, attempted murder, causing an explosion and possession of firearms.
The judge, Mr Justice Wilkie, said the offences had been committed "in the context of Middle East terrorism".
Locked up
The man was released on licence in 2008 - and has lived in Britain ever since. But he was returned to jail after admitting that he attended the rally in central London, less than three weeks before the Olympics began.
Probation officers decided that he had breached conditions of his release by "becoming involved in political events".
But the judge said that "upon reflection" officials had changed their minds, and decided that the risk posed by the man could be managed in the community.
Despite their change of stance, and a request from the officers that the man be released, Justice Secretary Kenneth Clarke did not rescind the prison recall order.
At a High Court hearing earlier this month, the man claimed he had been unfairly recalled to jail.
Judgement 'erroneous'
Mr Justice Wilkie concluded that the initial decision to put the man back behind bars was fair.
But he ruled that not rescinding the order - in light of the probation officers' change of heart - was unreasonable, and said the man should be freed immediately.
He said: "The very clear view expressed by probation was that their initial judgment was erroneous and that recall would cause great damage to the purposes of release on licence, namely the successful rehabilitation within the community of the offender."
In response to the ruling, a Ministry of Justice spokesman said: "Public protection is our top priority. Serious offenders on licence are subject to a strict set of controls and conditions, and can be recalled to custody if they breach them.
"Terrorist offenders subject to probation may also be required to comply with additional licence conditions, to better manage any risk they pose."