Prince Harry photos: Palace drops complaint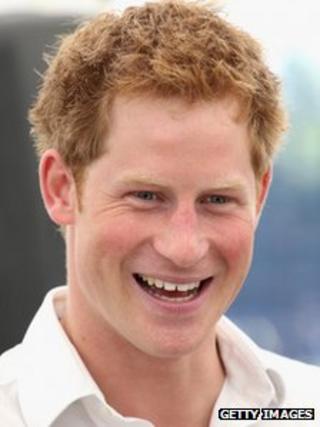 Prince Harry will not pursue a complaint with the Press Complaints Commission (PCC) over the publication of photographs of him naked in Las Vegas, St James's Palace has said.
The Sun printed the photos, taken in a hotel room, despite warnings from the Royal Family's lawyers that it would be an invasion of his privacy.
They were originally published on US gossip website TMZ.
The palace said "it would not be prudent to pursue the matter further".
"Having considered the matter now for a number of weeks, we have decided not to pursue a complaint," said a spokeswoman for the palace, which handles public relations for the Prince of Wales and his sons.
"We remain of the opinion that a hotel room is a private space where its occupants would have a reasonable expectation of privacy."
Because the prince was "focused entirely on his deployment in Afghanistan", pursuing a complaint relating to his private life "would not be appropriate at this time and would prove to be a distraction", she added.
The pictures of the prince and a young woman naked appeared on TMZ - which reported that he had been playing "strip billiards" after inviting friends back to his hotel room for a private party - last month.
The photos are believed to have been taken on a camera phone.
Following the publication, St James's Palace contacted the PCC saying it had heard a number of UK newspapers were considering using them and that would constitute an invasion of privacy.
The Sun defied those warnings, saying there was "a clear public interest in publishing the Harry pictures, in order for the debate around them to be fully informed".
It said Harry had "compromised his own privacy" by "frolicking in the pool before inviting strangers to his hotel room for a game of strip billiards" in "the party capital of a country with strong freedom-of-speech laws".
On Friday, the PCC told the BBC News website it noted the comments and cited a statement it made at the start of September that it would not be appropriate to "open an investigation into this matter in the absence of a formal complaint to the commission from Prince Harry".
Earlier this month, the Duke and Duchess of Cambridge launched legal action for breach of privacy against the French magazine Closer over its publication of topless pictures of the duchess.
The celebrity gossip magazine printed pictures taken while she was sunbathing on a private holiday with her husband at a French chateau, saying the couple were "visible from the street".
The pictures were subsequently printed in publications including the Irish Daily Star and Italian gossip magazine Chi. No British newspaper printed the pictures.