Newspaper review: Nick Clegg speech judged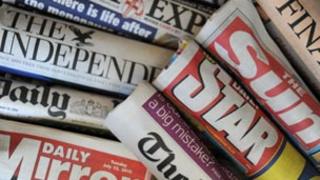 The newspapers carry praise for Nick Clegg after his speech to the Liberal Democrat party conference in Brighton.
The Independent describes Mr Clegg as defiant and unapologetic. For the Daily Telegraph, he was resilient, telling his party what it did not want to hear.
And the deputy prime minister's sober tone won the trust of the Liberal Democrats, says the Financial Times.
The speech was brave and impressive, adds the Sun, confronting UK spending more directly than other leaders have.
Strongest attack
David Cameron's speech to the United Nations General Assembly is also covered on the front pages.
The Guardian believes it was Mr Cameron's strongest attack on the UN over its inaction on Syria.
Mr Cameron charges China and Russia with blocking international efforts to halt the war in Syria, the Independent says.
The speech was his most provocative attempt to end the impasse blocking further international action against President Assad, argues the Times.
Faith low
"A licence to shoot burglars" is how the Daily Mail reacts to the sentencing of two men who were shot as they tried to raid a secluded farm house.
The Times and the Daily Telegraph agree the judge clearly backed the right of householders to defend themselves.
The Daily Express says public faith in the criminal justice system is low but every now and again, something happens to remind us that all is not lost yet.
It was, believes the Express, a red letter day for the UK legal system.
Delusion ended
The Guardian and the Independent publish pictures on their front pages of flames caused by petrol bombs thrown during anti-austerity riots in Athens.
The Daily Mail says the terrifying events of the past two days in Greece and Spain have ended any delusion the eurozone debt crisis has dissipated.
The Daily Telegraph and the Daily Mail reveal one of Hong Kong's richest men has offered a reward of nearly £40m to the man who can woo his lesbian daughter, Gigi Chau, who is reported to have entered a civil partnership.