Royal Marine who died in Afghanistan named as Capt Carl Manley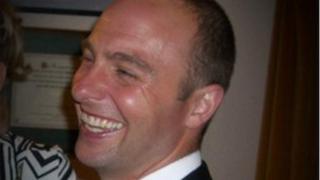 The serviceman who died in Afghanistan on Monday has been named by the Ministry of Defence as Capt Carl Manley, of the Royal Marines.
Capt Manley, 41, died at Bagram Air Force Base from what was believed to be natural causes.
The MoD described him as a devoted husband and father who had served his nation with "dedication and courage" for more than 20 years.
A family statement said: "To us, Carl was the loveliest husband and father."
"We can't imagine life without him.
"We are so very proud of him and everything he has achieved, both professionally and for the family.
"Always smiling, he never had a bad word to say about anyone. Everything he did was selfless, at work and at home. The world has lost a really special person."
Capt Manley's commanding officer, who has not been named, said: "His combination of ferocious work ethic and humility ensured that he made a sustained contribution to Isaf (International Security Assistance Force) operations on this and his previous tours of Afghanistan.
"A highly-valued Royal Marine officer, he will be missed by all those who worked with him."
Defence Secretary Philip Hammond said: "I was very saddened to learn of the untimely death of Capt Carl Manley whose career in the Royal Marines has been tragically cut short by a fatal medical condition.
"He served with courage on Afghanistan's front line and his contribution to the campaign and to Britain's national security will not be forgotten."