Newspaper review: Missing schoolgirl 'could be anywhere'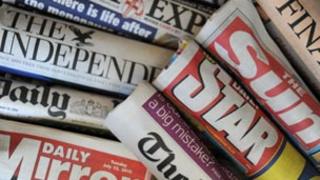 Pictures of missing school girl Megan Stammers - arm in arm with the teacher she has disappeared with - dominate the front pages of most UK newspapers.
The Sun says police believe they could now be anywhere in Europe. And Megan's stepfather - who once worked with teacher Jeremy Forrest - had thought he seemed "a nice bloke", it adds.
Police were told last week about their relationship, reports the Guardian.
And the Mirror claims officers seized their mobile phones just days before they fled to the continent.
The Guardian leads with the BBC's letter of regret to Buckingham Palace after the revelation the Queen had wanted Abu Hamza al-Masri arrested years ago.
The Mail concludes it was a "deplorable breach of protocol and trust" by BBC security correspondent, Frank Gardner.
Gardner admits it was not his "best day" in a tweet reported by the Times.
The Express says while the Queen would be mortified her private opinion about a sensitive issue was made public, she was actually "bang on" with her views.
'Plebian skeletons'
The Daily Telegraph says David Cameron is standing by Andrew Mitchell, after the chief whip "looked him in the eye" and denied calling officers "plebs".
According to the Daily Mail, Mr Mitchell made a second attempt to cycle through the main gates of Downing street just 12 hours after his "foul mouthed rant".
Under the headline "a real pleb", the Independent points out Mr Mitchell's roots come from "working class stock".
The Mail also picks up on the "plebian skeletons" in his "ancestral closet".
The Financial Times says Nick Clegg will warn his party of "political pain ahead" when he closes the Lib Dem conference in Brighton today.
Mr Clegg will urge colleagues to acclimatise to being permanently "one of the three parties of government".
Elsewhere, the Daily Telegraph details plans for a pensioner sex advice pamphlet, to tackle a rise in sexually transmitted diseases in the over 60s.
Older people are fitter and more likely to take on new partners now, it says.