UBS 'rogue trader' Kweku Adoboli had been 'told off'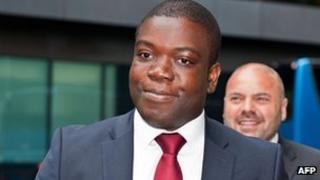 A City trader with Swiss bank UBS who lost £1.4bn had been "told off" a year earlier for exceeding financial trading limits, a court has heard.
Kweku Adoboli, 32, of Whitechapel, east London, denies two charges each of false accounting and fraud between October 2008 and last September.
His actions are said to have threatened the existence of the bank, which saw its share price fall by £2.8bn.
Colleague John Hughes said he felt Mr Adoboli resented him "grassing him up".
Southwark Crown Court heard Mr Adoboli was "told off" by his line manager after being reported by Mr Hughes in December 2010.
But Mr Hughes told the trial that because of the way the incident had soured their relationship he decided not to report him for a second time, in June 2011, when he realised he had again broke a daily trading limit.
"I went to a school where people didn't grass," said Mr Hughes.
Three months later Mr Adoboli was arrested after UBS lost £1.4bn.
Mr Hughes, who was later sacked, told the trial: "I felt as though I had stitched him up. I think that maybe he didn't trust me as much [after he was reported]."
He added: "I never felt comfortable doing it in the first place and I didn't after that."
The prosecution claims Mr Adoboli gambled away the bank's money on illegal trading because he hoped to boost his annual bonuses and gain promotion.
'Braver'
Mr Adoboli and Mr Hughes worked together in UBS's global synthetic equities division, buying and selling exchange traded funds (ETF), which track different types of shares, bonds or commodities such as metals.
The court has heard that, at one point, Mr Adoboli was at risk of losing £7.4bn.
Mr Adoboli claims his managers had supported his risk-taking.
Mr Hughes described the defendant as a "very, very good" trader and said Mr Adoboli had been "braver" when it came to taking risks.
"Kweku was the good guy. He had a bigger risk appetite than I did," he told the court.
Mr Hughes said that, up until 2011, limits on trading levels were "loose" but he said traders would be disciplined if they went too far over.
But in 2011 a new manager, John DiBacco, set written limits for the first time in a bid to prevent huge losses and warned "all hell would break loose" if they were breached.
Under questioning from prosecutor Sasha Wass, QC, he said he became aware of what was described as an "umbrella" fund used by Mr Adoboli in January 2011.
The prosecution claims this was a secret slush fund used by the accused to hide his unauthorised trading.
Miss Wass asked: "Why did you not report this?"
"Because I am stupid, I should have done. To this day I wish I had done. Then we wouldn't be here now," he replied.
"Why?" she asked.
"Because the bank would have fired him," he said.
The trial continues.