Newspaper review: Abu Hamza court decision reported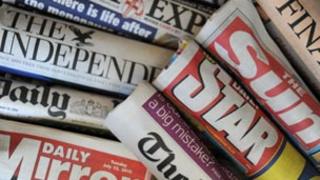 The move by The European Court of Human Rights to clear the way for radical preacher Abu Hamza al-Masri to be extradited to the US is reported in Tuesday's papers.
The Daily Mail thinks the UK is "days away" from getting rid of the cleric.
The Daily Express describes him as "evil" but laments that it has taken "many years and a fortune in legal costs" to get to this stage.
And the Sun says it never dreamed it would take so long to be rid of the man it says "openly promoted murder".
The Daily Telegraph's front page has more on what is reported to be the police log of the row between Chief Whip Andrew Mitchell and Downing Street officer .
It says Mr Mitchell repeatedly refused to comply with the officers, swore at them and was threatened with arrest after he called them "plebs".
Under the headline "Spindaloo", the Sun says the outburst came after what he said was a "long and frustrating day".
But the paper says he had enjoyed lunch at the UK's "poshest curry house"..
The disappearance of 15-year-old schoolgirl Megan Stammers, who is thought to be in France with a maths teacher, is covered by the Daily Mail.
It says she was seen holding hands with him seven months ago as they sat on a flight home from a school trip in US.
People with homes worth more than £1m will face a rise in their council tax bill as the coalition considers new taxes on wealth, the Independent says.
The paper believes the idea will be championed by the Liberal Democrats.
Both the Guardian and the Times believe David Cameron is taking a gamble by agreeing to appear on The Late Show with David Letterman.
The Guardian believes it is "a brave, if slightly foolhardy" attempt to follow in the footsteps of the Mayor of London, Boris Johnson.
The paper says the prime minister believes himself to have a sharper wit than his fellow old Etonian.
But the Times says it is risky for him to believe he can emerge unscathed.