End of an era as Abu Hamza to be extradited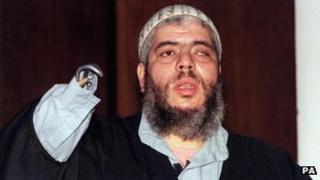 There can be few more striking figures that encapsulate Britain's battle against al-Qaeda-inspired extremism than the towering, hook-handed cleric Abu Hamza al-Masri, convicted of soliciting to murder and stirring up racial hatred.
This week, the Egyptian-born Islamist - real name Mustafa Kamel Mustafa - appears to have lost his final battle against extradition from a British jail to the United States where he faces 11 allegations.
But his story goes back to the 1990s and beyond, predating the so-called War on Terror.
'Botched rescue attempt'
In December 1998, a group of 16 western tourists, mostly British, was seized at gunpoint on a remote desert road in southern Yemen and taken hostage by fanatical, machine-gun-wielding militants.
This was no tribal dispute to be settled, Yemeni style, by amicable negotiation over glasses of sweet tea and chewing narcotic qat.
The militants demanded an exchange with prisoners held by the Yemeni government.
The prisoners the militants wanted freed included six men sent out from Britain by Abu Hamza. The men had been arrested a few days earlier.
The lead kidnapper used his satellite phone to call Abu Hamza in London for advice on how to proceed.
Meanwhile, in the Yemeni capital Sana'a, the British ambassador went in to see the hardline interior minister to plead for the stand off to be resolved without shooting.
Too late, came the reply, there have already been some casualties.
In fact, four of the tourists died in the botched rescue attempt by the Yemeni army - three Britons and one Australian.
An American woman was shot in the backside but survived.
As I flew into Aden to interview the survivors that December day, I was unaware - as was the British Embassy - that several British nationals and a French Algerian were locked up in the city's jail a few hundred metres away: Accused of plotting terrorist attacks on a number of targets including the British consulate, a hotel and a church.
The Yemeni authorities were confused by their Arab and Asian ethnicity and at first refused to believe they were Britons, waiting several days to inform the British embassy.
The arrested group, who said they were in Yemen as tourists, had been sent by Abu Hamza.
It included his 17-year-old son and a stepson.
Noisy troublemaker
By now, Abu Hamza had seized control of Finsbury Park mosque in north London, evicting the moderate, mainstream Muslim clergy and using it as a base to propagate his violent messages of hatred around the Middle East.
Most British Muslims were baffled and irritated by the media attention he attracted, insisting he did not speak for them, while Islamic scholars questioned his religious credentials.
The following year, the arrested men appeared in court in Yemen, were convicted in a trial criticised by some human rights activists, served their time and eventually returned to Britain.
In London the security service, MI5, initially - and wrongly as it turned out - dismissed Abu Hamza as just a noisy troublemaker.
But they underestimated his dangerous appeal to extremists who listened to his vitriolic sermons then went on to plan acts of violence.
In 2003, in a massive night time operation, the police raided Finsbury Park mosque and found chemical warfare protection suits, pistols, a stun gun, knives and more than 100 forged or stolen passports - all the suspected paraphernalia of jihadi training camps.
Abu Hamza al-Masri's time there was up and he was evicted from the mosque, to be arrested the following year.
So now, eight years on, the US authorities look set to hold him to account for both an alleged terrorist training camp in Oregon and more particularly about his connections to violent extremism in Yemen.
His departure from Britain, a country he famously called "a toilet", will be welcomed by many.