E-petition leaves badger cull 'up for debate'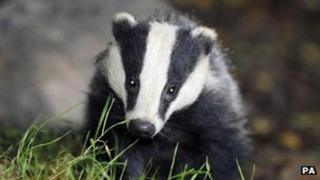 The badger cull in parts of Somerset and Gloucestershire could be reconsidered, after 100,000 people signed an e-petition to stop it.
The online petition was launched last week by Queen guitarist Brian May, as part of the "team badger" campaign.
The petition currently has 105,000 signatories, which means it could be debated in the House of Commons.
Last week, farmers were issued with the first licences to shoot badgers, in a cull aimed at preventing bovine TB.
Campaigners say the cull will not have a significant impact in reducing the disease and are calling for the government to focus on the vaccination methods instead.
But those in support of a cull argue the move is needed because badgers spread TB to livestock, costing taxpayers and farmers millions of pounds.
'Make things worse'
Scientific estimates suggest that culling badgers in areas where bovine TB is prevalent could reduce the number of new cases of TB in herds by 16% over 9 years, according to the Department for Environment, Food and Rural Affairs.
In Gloucestershire, farmers are being licensed to shoot up to 70% of badgers in one 300 square kilometre area.
The licence for a trial cull in Somerset is still under consideration.
Meanwhile, animal welfare and wildlife campaigners have opposed the cull, which will allow wild badgers to be shot by trained marksmen when the animals venture out of their setts at night.
The Badger Trust lost a fight challenging the legality of the cull in the High Court in early September.
The e-petition has called on the government to halt the cull, arguing that "over 70% of the badger population in large areas of the country will be killed, many of them healthy".
"Independent scientific studies have shown that culling would be of little help in reducing bovine TB, and even suggest that it could make things worse in some areas," it says.
"We urge the government to stop the cull and implement the more sustainable and humane solution of both a vaccination programme for badgers and cattle, along with improved testing and biosecurity."
Shadow Environment Secretary Mary Creagh said: "There is widespread concern about the government's decision to press ahead with a badger cull, despite their own official advice that it will cost more than it saves and will spread bovine TB in the short term as badgers are disturbed by the shooting.
"Ministers should listen to the scientists and can this cull which is bad for farmers, bad for taxpayers and bad for wildlife."