Afghanistan death soldier named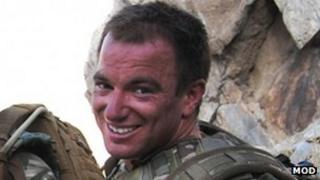 A soldier killed in Afghanistan has been named as Capt James Townley of the Corps of Royal Engineers.
He died in Helmand province on Friday - the day before his 30th birthday - in a shooting incident not thought to be the result of hostile action.
Capt Townley grew up in Barton St David in Somerset. His family described him as "our guardian angel and our hero".
Lt Col Chas Story said 28 Engineer Regiment was "devastated that such a bright light has gone out".
Capt Townley leaves behind his parents Peter and Jacqui, brother Nick, and girlfriend Helen.
Their statement said: "James was a wonderful, loving and caring son and brother. He was devoted to his girlfriend Helen. He was our guardian angel and our hero. We were so proud of him.
"He touched every part of our lives and his loss has left a huge chasm that we can never fill."
Capt Townley had deployed to Afghanistan on 5 September, attached to 21 Engineer Regiment.
Lt Col Jack Nicholson, commanding officer of 21 Engineer Regiment, described Capt Townley as "an enthusiastic, professional and extremely likeable young officer who made friends easily".
"Back in Afghanistan for his third tour, he had worked hard to prepare for the deployment and was looking forward to getting to grips with the challenges that lay ahead.
"In the time that I have known him, he was always cheerful, polite and full of energy - a real pleasure to command."
He added: "Our heartfelt condolences are with his parents Peter and Jacqui, his brother Nick and girlfriend Helen. I cannot begin to imagine the pain they are feeling, but the thoughts and prayers of the whole regiment are with them at this most difficult time."
'Spirit of adventure'
Col Story said Capt Townley had been "an exceptional officer, a great character and unbelievably clever", adding that he had volunteered for all three tours in Afghanistan.
He had "worked tirelessly to coordinate the delivery of engineering projects he knew would improve the lives of the local Afghan population", said Maj Garreth Dent, of 21 Engineer Regiment.
Capt Townley had achieved a first-class degree in engineering and computer science from Oxford University, then worked as a tax associate for Price Waterhouse Coopers, before starting his Army career in 2007 by attending the Royal Military Academy Sandhurst.
Having rowed for his college while at university, he went on to represent Sandhurst and his regiment in the sport.
Maj Spence McComb. said: "Captain James 'JT' Townley was a star within 28 Engineer Regiment.
"An exceptionally intelligent young officer with notably sharp analytical and planning skills, his military career was flourishing.
"Nothing was too much for JT, he would always be on hand to help out his fellow officers or soldiers, he would never put himself first, and he was someone who could be relied on."
Capt Richard Pearce, who had graduated from Sandhurst with Capt Townley, and served alongside him in the Royal Engineers, said he would be "sorely missed, both as a fellow officer and a friend".
"As a friend one could simply ask for no better; his spirit of adventure ensured that spontaneous road trips kite-surfing or skiing around Europe were aplenty. A genuine friend, JT would always make the effort to catch up, often turning up with the makings of a good cocktail."