Bad weather: Send us your pictures and videos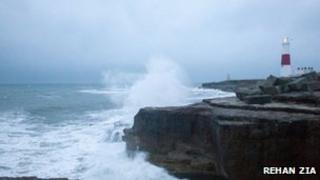 How are you coping with the bad weather?
People all over the UK are set for strong winds and heavy rain within the next 24 hours, as winds of up to 60mph hit parts of England, Wales and Scotland.
Forecasters say other areas could see 80mm of rain before this evening, with Northern Ireland also likely to be severely affected.
The Environment Agency has already issued 65 flood alerts, mainly in south-west England, and 11 warnings for the South West.
Heavy rain has already caused major travel disruption in Devon and Cornwall, with some London trains suspended.
And with more than half a month's rain falling across parts of the region in a 24-hour period, drivers have been warned of hazardous road conditions.