Newspaper review: Press digests Lib Dem conference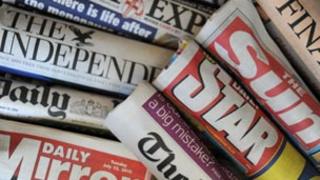 The Liberal Democrats' conference makes the lead for several newspapers.
The Daily Telegraph looks ahead to the Business Secretary Vince Cable giving more details of a publicly-funded bank.
This will to try to help firms struggling to borrow from traditional high street institutions.
The Guardian reports on the Lib Dem leader Nick Clegg's comments that further reductions in welfare spending must be accompanied by increasing taxes on Britain's richest 10%.
The Sun says it has seen an official police report of Andrew Mitchell's confrontation with officers at the Downing Street entrance gates.
According to the paper, the report confirms that the Chief Whip did call offciers "plebs" and repeatedly swore.
Sex trafficking
John Terry's retirement from international football is the main story on the sports pages.
The Daily Mail says the Chelsea captain quit after becoming convinced that the FA was determined to find him guilty.
The Times leads with revelations of what it calls a hidden truth about the sale and extensive use of children in South Yorkshire for sex.
It says documents show that organised groups of men were able to traffic girls with virtual impunity.
The Telegraph says top American universities are having a recruitment drive in Britain to capitalise on opposition to rising tuition fees.
US institutions are marketing themselves to bright UK school-leavers.
'Breakfast skippers'
The Mail reports that one in three adults is far too busy for the most important meal of the day
A survey found that another 30% ate their breakfast during their journey to work.
The school run and daily commute are apparently forcing us to fill up on unhealthy snacks later in the day.
The researchers tell the paper that we are a nation of "breakfast skippers" but that a quick cup of tea and a slice of toast are achievable.