Newspaper review: Tax making headlines in the papers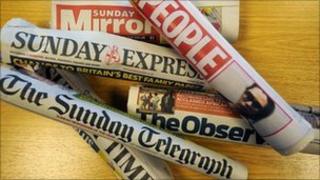 Tax is the issue making headlines in the day's papers.
According to the Mail on Sunday, the Liberal Democrats have got a mansion tax in through the back door.
This is because Treasury Chief Secretary Danny Alexander has spoken of closer tax scrutiny for the rich.
Business Secretary Vince Cable has been talking about tax to the Sunday Times. The paper says he has signalled a new assault on tax havens and non-domiciled millionaires.
The Observer says one of Nick Clegg's closest advisers, Richard Reeves, has admitted that the coalition's spending cuts have been too deep.
Minister 'threatened'
For the second weekend in a row, the Sunday Telegraph covers overseas aid.
The paper says it has carried out an investigation which reveals that Britain is still giving hundreds of millions of pounds in development aid to wealthy countries.
It says these include China, Russia, Brazil, Iceland and Barbados.
The Daily Star Sunday says former Home Secretary Douglas Hurd arranged for South Yorkshire police to receive advance copies of the Taylor report into the Hillsborough tragedy.
Meanwhile, the Conservative Chief Whip Andrew Mitchell continues to draw attention.
He has been criticised for rowing with a police officer at Downing Street.
The Sunday Mirror says he once dialled 999 when confronted by a constituent threatening him with a knife, under the headline: "Saved by the plebs".
Driver charges
The Lib Dem Transport minister, Norman Baker, has told the Sunday Express that a national system of road charging for every mile travelled is "inevitable".
He says falls in fuel taxes as people switch to electric and more efficient cars will force all parties to act.
The Observer highlights what it describes as an "incendiary" report by the Institute of Fiscal Studies.
This apparently shows living standards for low and middle income families will fall steadily until 2020.