Newspaper review: Stories may discomfort government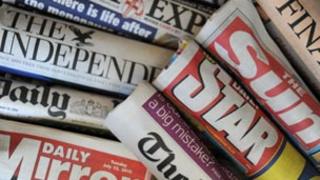 Among the varied front page stories on Friday, several may make uncomfortable reading for the government.
The Daily Mail leads on "open revolt" over plans to relax planning rules for the likes of home extensions.
In the Daily Telegraph, a former minister blames the Treasury for blocking reform of social care funding.
Reporting disrespectful remarks to police officers made by chief whip Andrew Mitchell, the Sun calls it "despicable" and says he should resign.
Off-key
Coverage may be seen as only slightly more favourable for Nick Clegg, leader of the "Glib Dems" - says a Daily Mirror headline - facing what the Mail calls "internet ridicule".
His video apology over tuition fee rises has been turned into a spoof song that could get a commercial release.
"Politicians traditionally aim to get to No 10, but Nick Clegg is in danger of reaching No 1," says the Telegraph.
His aides, says the Times, hope it will get people talking about their boss.
Haven links
The Guardian leads on a call by the Conservative Party treasurer, Lord Fink, for law changes to make the UK more like a tax haven.
The paper claims 68 MPs and peers are directors or non-executive directors of firms linked to tax havens.
Ofcom criticism of James Murdoch will "scar his reputation for a time to come", suggests the Guardian.
But the Financial Times reports that he is still being lined up to run News Corp's US television businesses.
Nippy waters
A new danger is lurking underwater at Hampstead Heath's ponds, where - reports the Telegraph - red swamp crayfish have been nipping swimmers.
The problem is most sensitive in the men's pond, where many bathers go nude.
The Mail reports on Twitter mockery of Waitrose after the supermarket asked for endings to the sentence: "I shop at Waitrose because..."
Responses included: "I shop at Waitrose because their colour scheme matches my Range Rover."