Kate topless photos: Danish magazine latest to print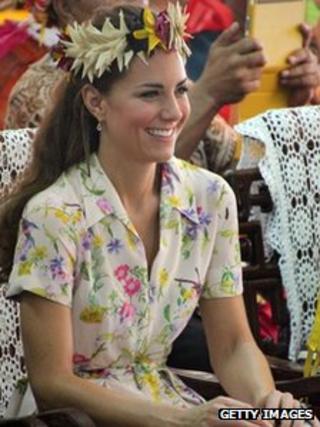 Danish celebrity magazine Se og Hoer has become the fifth publication to print photographs of the Duchess of Cambridge sunbathing topless.
The magazine's 16-page spread includes 14 topless shots of Prince William's wife Catherine and three where she is changing her bikini bottoms.
The pictures have been used in France, Italy, the Irish Republic and Sweden, where they were published on Wednesday.
St James's Palace said "proportionate responses were under review".
The Swedish magazine which published the pictures, Se och Hoer and its Danish counterpart are owned by the Denmark-based Aller Media company.
Kim Henningsen, editor-in-chief of the Danish magazine, said he was "incredibly proud" to have obtained the sole Danish rights to the photographs.
"Our readers love to follow the lives of the royals and they want scoops," he said on the magazine's website, adding these were photographs "which the whole world is talking about but very few have actually seen".
The BBC's Malcolm Brabant, in Copenhagen, said the edition has been distributed to more than 6,000 kiosks and shops across Denmark.
He added that the story had been given prominence across all forms of media in Denmark, especially on the main television outlets.
'Particularly intrusive'
News of the publication emerged as Prince William and his wife arrived home to the UK from a nine-day Diamond Jubilee tour of south-east Asia and the South Pacific.
On Tuesday, a Paris court banned future publication of the photos in France, ordering French magazine Closer to hand over the originals.
The photographs were taken while the duchess was sunbathing on a private holiday with her husband at a French chateau, in Provence, earlier this month.
No British newspaper has printed the pictures.
Meanwhile, St James's Palace said: "As we've said, we will not be commenting on potential legal action concerning the alleged intended publication of the photos save to say that all proportionate responses will be kept under review."
The sunbathing pictures ran in Closer on Friday before appearing elsewhere.
In its ruling on Tuesday, a French court said the pictures were a "brutal display" of the couple's private lives.
Following the ruling in the civil case, prosecutors are considering whether there are grounds for criminal charges.
Elsewhere, the editor of the Irish Daily Star, Michael O'Kane, has been suspended after publishing the topless photographs on Saturday.
The Italian gossip magazine Chi - which, like Closer, is part of former Italian Prime Minister Silvio Berlusconi's Mondadori media group - also printed a special edition featuring more than 20 pages of the photographs.