Operation Tuleta: Journalist in privacy probe bailed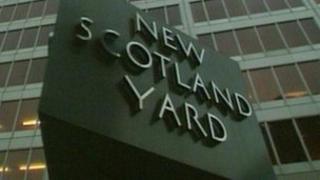 A 30-year old journalist arrested in connection with the alleged hacking of stolen mobile phones and breaches of privacy has been released on bail.
He was arrested at his home in south-east London at about 07:30 BST on Thursday and was questioned at a south London police station.
The man was also arrested on suspicion of handling stolen goods.
The arrest is the 14th as part of Operation Tuleta, one of three linked Met police probes into phone hacking.
Scotland Yard said the arrest - under Section 1 of the Computer Misuse Act 1990 - relates to a "suspected conspiracy" involving the gathering of data from stolen mobile phones.
The journalist was granted bail until December.
Police said the investigation would not force journalists to reveal legitimate sources of information.
Operation Tuleta - which deals mainly with computer hacking - is connected to Operation Weeting, the Met's investigation into phone hacking, and to Operation Elveden, which is looking at corrupt payments by journalists to public officials.