Newspaper review: Press opposed to arming of police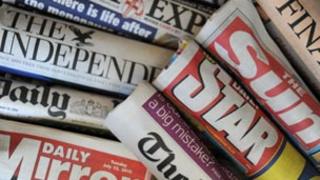 In the wake of the murders of two policewomen, the papers speak almost as one against routinely arming officers.
"Isn't it an obvious truth that the more weapons we have on our streets, the greater the danger - to police and public alike," says the Daily Mail.
The Daily Star says only if police themselves ask for weapons should the move be considered.
But the Independent wants, "in an appropriate setting, when passions have cooled", the matter properly debated.
Grenade threat
The Daily Telegraph leads on the news "feuding criminals" in Manchester could have more hand grenades like those used in the killings.
The Sun says police in the city have warned a large number of people who are "at risk of being killed" in gang war.
More than 2,000 British tax avoiders in Monaco are costing the UK economy £1bn a year, reports the Times.
The Financial Times leads on a legal victory for the government against stamp duty avoidance.
Sorry display
Opinion was apparently divided in Westminster over Nick Clegg's tuition fees rise apology, and this is reflected in the mixed press response.
The Sun calls it "grovelling", the Independent "abject", while the Guardian says some of the Lib Dem leader's own advisers urged against it.
But the Times regards it as "a brave thing to do and a wise move".
It adds: "Bruised by power, Mr Clegg, more than many of his colleagues, looks worthy of it."
Baby boost
Leading on a birth in Afghanistan for a soldier unaware she was pregnant, the Daily Mail says it has "led to calls for extra medical checks".
"The unnamed squaddie reportedly passed every fitness test" for the deployment, says the Sun, her baby boy now giving an "unexpected morale boost" to troops.
There is widespread praise to welcome the Duchess of Cambridge back to the UK after a royal tour in south-east Asia.
"As if she was born to this kind of stuff," is the verdict of the Times.