Operation Elveden: Sun journalists and policeman held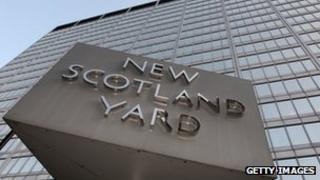 Detectives probing payments to public officials have arrested two journalists from the Sun and a serving policeman.
Two men, a 32-year-old from London, and a 51-year-old from Bristol, are being questioned over claims of conspiracy to corrupt and cause misconduct.
A 39-year-old with the Wiltshire force was held at his home in the county on suspicion of misconduct and conspiracy.
Some 50 people have so far been interviewed by Scotland Yard officers working on Operation Elveden.
The inquiry is investigating allegations of inappropriate payments to police and public officials, and runs alongside Operation Weeting, the probe into phone hacking.
Scotland Yard said the arrests were the result of information provided by News Corporation's management standards committee, which was set up in the wake of the phone-hacking scandal.
A spokesperson said they "relate to suspected payments to a public official and suspected disclosure of confidential information by a police officer and are not about seeking journalists to reveal confidential sources in relation to information that has been obtained legitimately".
The Sun's publishers, News Corporation's News International unit, confirmed that the two arrested journalists work for the newspaper, but did not disclose further details.