Newspaper review: Killings of policewomen dominate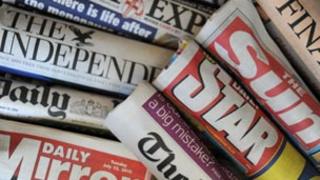 With almost every front page devoted to the killings of two Manchester policewomen, "Lured to their deaths" is the headline offered by more than one.
"A more cowardly attack is barely conceivable," says the Sun.
The Daily Telegraph believes the gang culture of a city once nicknamed "Gunchester" is behind the killings.
The officers' deaths "demonstrate the equality of risk shared by men and women every day when they go out on duty", suggests the Guardian.
Crime debates
The unarmed officers' deaths spark two debates: over the arming of police; and on the death penalty.
The Daily Mirror says "we should beware knee-jerk responses, including calls to arm the police routinely".
Times crime editor Sean O'Neill writes: "There is little appetite in the service for this to become routine."
Meanwhile, the Daily Express says: "The assumed moral superiority of the anti-capital punishment brigade has seldom seemed so misplaced as it does today."
Exit plan
Britain's exit plan for Afghanistan is in "disarray", according to the Times, "after a surprise decision to reduce joint patrols with Afghan forces".
The Mirror says troops' morale is being undermined by "confusion over what's happening", and "it is high time" Afghanistan handled its own security.
Top drug companies are giving up on the search for a cure for Alzheimer's disease, reports the Independent.
It says costly, failed trials "have damaged confidence" in neuroscience.
By George
The story of a British man missing in the Swiss Alps for four days, whose friends raised £14,000 to fund a search after insurers stopped paying, appears in papers including the Daily Mail.
"He was unlucky but ultimately very lucky," is the verdict of a Swiss police spokesman following a rescue.
The Independent reproduces a letter to the BBC written by new director general George Entwistle - aged six in 1969.
He complains about the loss of Tom and Jerry from the schedule to make way for over-running coverage of the Budget.