Kate topless pictures: Criminal and legal cases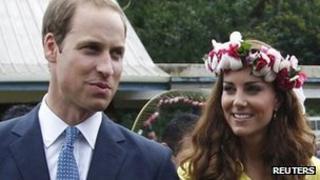 Lawyers for the Duke and Duchess of Cambridge are pursuing two separate routes in French law: civil and criminal.
The civil case is being heard by a judge in the Paris suburb of Nanterre.
Citing Article 9 of the French Civil Code, lawyers are seeking an injunction barring future publication - online or in print - by the magazine Closer of the topless photographs of the duchess.
In theory they could have also pushed for existing copies of the magazine to be withdrawn from sales points, but this is not happening.
At this point in civil proceedings, many French personalities who feel that their right to privacy has been breached also push for financial damages. And normally the judge will order a sum of money to be paid, based on an assessment of the hurt caused.
But this, it appears, is not the path chosen by the Royal Family.
Instead, lawyers for the duke and duchess are going on the offensive and seeking a conviction in the criminal courts. This is an unusual step in the French system, where most aggrieved parties are content with the damages awarded by the civil courts.
In theory, the couple could also seek damages at a later criminal trial. However, it may well be that their aim is to establish a principle, and so have little interest in financial compensation.
Their lawyers have now filed their case with the prosecutor's office, citing unnamed individuals or companies as having "deliberately infringed the private life of another".
Under Article 226-1 of the French Criminal Code, the punishment for this can go up to a fine of 45,000 euros (£36,400) - or five times that for a company - and a year in jail.
Legal experts here say it is an open-and-shut case. Under French law, a criminal (as opposed to a civil) offence is committed if the person photographed was in a "private place" - and that is clearly the case here.
The prosecutor's office will now open an investigation, with police mandated to assemble evidence. One legal difficulty may be identifying the photographer, whose name the magazine will probably refuse to release, citing the right to protect its sources.