Newspaper review: Royals grab attention of papers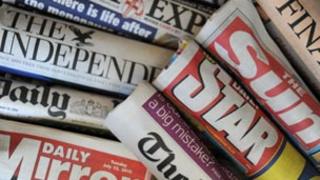 Pictures of the Duke and Duchess of Cambridge again dominate the papers.
The Independent reports that St James's Palace is instructing lawyers to be "prepared to go the whole way" in efforts to prevent publication.
The Daily Telegraph highlights the determination of the couple to "keep calm and carry on" while on their tour.
The Daily Mirror says they accept they do not have a realistic chance of bringing successful cases against publications in Ireland and Italy.
Body armour
Prince Harry is also at the centre of attention, after the Taliban's attack on the heavily fortified military base in Afghanistan where he is deployed as an Apache helicopter pilot.
The Daily Mail reports that the prince was ready to fight if necessary.
He apparently put on body armour and picked up a loaded firearm when the alarm sounded.
According to the Times, the prince was never in any danger because he was more than a mile away from the fighting.
Social attitudes
The papers suggest there are mixed lessons for ministers in the latest study of British social attitudes.
The Financial Times says increased support for more public spending will sound a warning bell for austerity.
The Independent believes ministers will also be worried about a sharp drop in satisfaction with the NHS.
But the Daily Telegraph says the hardening of attitudes towards benefit claimants suggests voters are squarely behind government welfare reforms.
Ace return
The Independent reports that it may have rained on Andy Murray's homecoming parade in Dunblane on Sunday.
But nothing could dampen the enthusiasm of the thousands who lined the streets to welcome the US Open champion and Olympic gold medallist, it continues.
The Sun pictures double Olympic gold medallist Mo Farah firing the starting gun at the Great North Run.
The Daily Mirror says a record 55,000 runners joined in the event top cap a great sporting summer.