Newspaper review: Papers focus on royal photos battle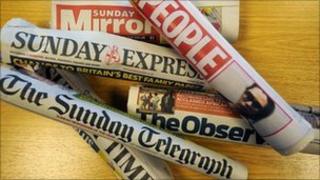 Pictures of the Duke and Duchess of Cambridge enjoying their tour of South East Asia appear alongside reports of their battle against the paparazzi back in Europe.
The Sunday Express describes it as the "joy and pain".
According to the Observer, the owner of an Italian gossip magazine says he will go ahead with plans to print 30 previously unseen shots on Monday.
This will be under the headline "The Queen is Naked".
Picture greed
The Sunday Mirror claims Prince William has "vowed to give evidence in court" to get those responsible for printing pictures of his wife sent to prison.
The Mirror says a furious Duke of Cambridge told aides: "I want them jailed."
The Sunday Times says more than 200 pictures were taken.
The Sun says the couple "blasted the moneygrabbers" publishing the pictures and quotes an aide of the duchess saying: "She sees it as greed."
Exam grades
According to the Mail on Sunday, Education Secretary Michael Gove will herald "an end to a quarter of a century of dumbed down exams".
GCSEs will be abolished and a tough new O-level style system will be brought back, he will announce on Tuesday.
The Sunday Telegraph reports that sixth formers with just two E grades at A-level are getting into university.
The colleges are apparently scrambling to fill places because of high tuition fees.
Boxes of documents
The Independent on Sunday leads with what it describes as "The Hillsborough Conspiracy".
It says a constable who quit in disgust told an investigating judge of a cover-up 15 years ago, but was ignored.
The Daily Star Sunday says it can reveal that boxes of documents relating to the disaster remain secret because insurers refused to give full access.
But the insurers told the Star that none of the documents would have had an impact on any investigations.