Newspaper review: Papers consider Kate photo 'lessons'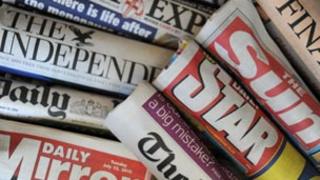 As the French magazine Closer faces criticism for printing topless photos of the Duchess of Cambridge, many papers point out that France has some of the world's toughest privacy laws.
The Daily Mirror asks Lord Justice Leveson, who is examining the UK press's conduct, to note it is the regulated French who have transgressed.
The Daily Mail says Fleet Street was offered similar photos last week and rejected them: "The lesson of this regrettable saga... is that draconian privacy laws simply do not work."
Meanwhile, the Duke of Cambridge asked for a reference to Diana, Princess of Wales, to be added to the statement issued in response, says the Times.
'Indefensible invasion'
The Daily Star claims "far more intimate" pictures of the Royal couple are being offered to the press.
But the use of long-lens pictures is "an indefensible invasion of privacy", declares the Independent.
Elsewhere, the Sun uses an editorial to explain why the newspaper "won't touch the photos with a bargepole".
The continuing anti-Western protests across the Arab world is described as a "wave of anger" by the Guardian.
The Mail calls them a "terrifying tide".
Western diplomatic missions have become "the new front line" in a war on the values of their governments and societies, says the Daily Telegraph.
But protesters are shooting themselves in the foot, insists the Times, because these missions have been channelling desperately needed aid and investment.
'Serious embarrassment'
The Telegraph interviews Labour leader Ed Miliband and says the man often overlooked by Tories as "an unelectable geek" will soon present a challenge.
But recent union comments were a "serious embarrassment" to him, says the Mail.
One unlikely star of the morning papers is Peter Glazebrook who won all six classes in the giant vegetable contest at the Harrogate autumn flower show.
The Guardian shows him wheeling his prize cabbage through the show - it weighed 81 pounds.